You bought HP TouchPad, it's discontinued, now what?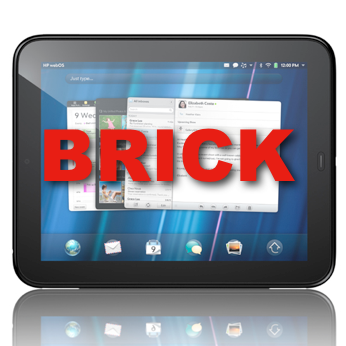 Six weeks after the first TouchPads reached retail and two months after preorders started, HP killed the tablet. That's right -- in a stunning announcement made just a few hours ago.
What we want to know: Did you buy TouchPad? Are you willing to admit it? What do you plan to do with it? What do you think of HP's decision to ice TouchPad -- your tablet -- in less time than European summer vacations? Please tell us, in comments or email joe at betanews dot com.
In my 17 years writing about tech, I can't recall anything quite as shocking as today's announcement. HP spent $1.2 billion to buy Palm and release a charming tablet, only to screw tens of thousands -- hopefully not that many -- of customers six weeks later. I can get a brick from the Home Depot without spending 500 bucks. Geez Louse.
During today's earnings conference call, HP executives strongly communicated that TouchPad sales were downright awful. Too bad, over at Best Buy, users give the 16GB model 4.1 starts and 32GB 4.6 stars -- hardly signs of dissatisfaction. By comparison, iPad 2 16GB is 4.2 stars and 32GB 4.6 stars.
Over at Amazon, there are 113 5-star reviews. Writes one buyer on July 2 -- one day after sales started: "From a dedicated Apple fan, this is a good device". Writes another: "Finally I have my own tablet to keep. After months of researching and trying out devices, I have settled on the HP TouchPad".
Companies should pay attention when customers are hugely satisfied. Based on these sample reviews, TouchPad users are damn happy with their devices, and many are likely to be damn mad after learning what HP did today. In that scenario, the once satisfied customer can become a company's greatest liability.
I'm of the opinion HP should have given TouchPad more time -- certainly more than six weeks of sales before killing it off. But I didn't buy one, although it was high on my consideration list. If you did, now's the time to share your pain.