It's a TouchPad Gold Rush!!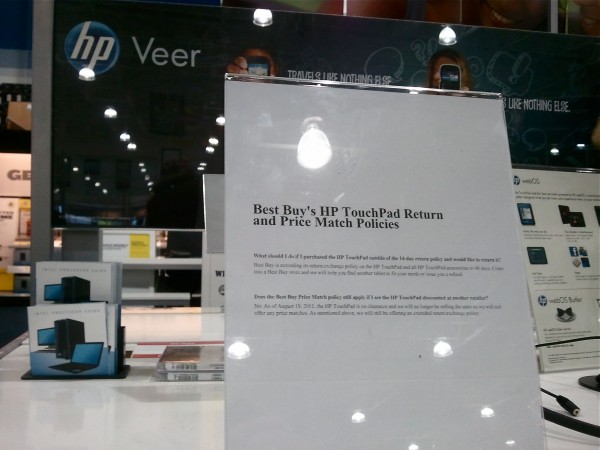 To celebrate the launch of BetaNews' latest redesign, we all went on a Cannonball Run for the newly-discounted HP TouchPad, and we found that it truly was a gold rush, and nearly every TouchPad had been scooped up.
Diehards all over the place hit the shops at 8am EST this morning to try to snatch up the super cheap, high quality WebOS tablets from whichever retailers had them in stock, and as it turns out, they weren't exactly lining their birdcages with the things, as some journalists had initially suggested.
Best Buy, the retailer that purportedly had 270,000 unsold TouchPads lying around, began pulling them from the shelves at 10AM today when the message went out to stores that HP was recalling them.
In the empty spot where the TouchPad was, stands a sign about returns and price matching. It reads:
"What should I do if I purchased the HP TouchPad outside the 14-day return policy and would like to return it?

Best buy is extending its return/exchange policy on the HP TouchPad and all HP TouchPad accessories to 60 days. Come into a Best Buy store and we will help you find another tablet to fit your needs or issue you a refund.

Does the Best Buy Price Match policy still apply if I see the HP TouchPad discounted at another retailer?

No. As of August 19, 2011, the HP Touchpad is on clearance and we will no longer be selling the units, so we will not offer any price matches. As we mentioned above, we will still be offering an extended return exchange policy."
Patrons came up, one after the other, read the sign, and asked the nearby employee where they could get a TouchPad.
The paraphrased answer was "not here."
The 4G Veer is also M.I.A.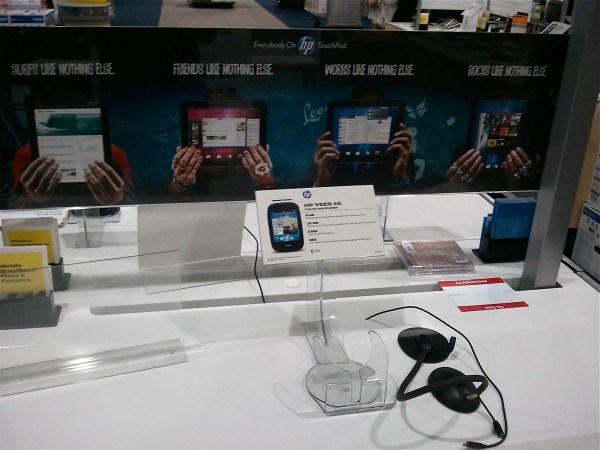 As the Best Buy sign suggests, there are plenty of other retailers who have slashed the price of the TouchPad, so we went to all of the nearby locations as they were being alerted of the price reduction.
Two Staples locations: Sold out
Sam's Club: Sold out (to an "Early Hours Shopping" customer at 7AM)
HH Gregg: Sold out
Office Depot: Sold out. Apparently, interest for the 16GB model is lower at Office Depot because the retailer is charging a $30 premium on top of the $99 reduced price. An employee called up the supply list for all nearby stores, and there were a handful of 16GB models left, but no 32GB models.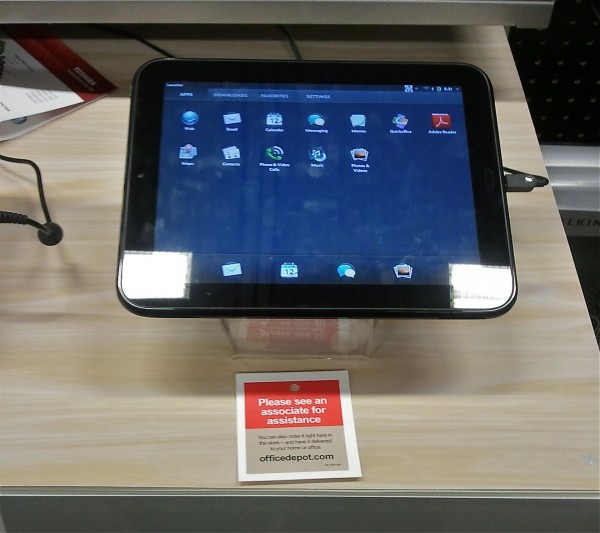 At every location, we ran into other people going through the same wild goose chase, scouring all their nearby retailers for the TouchPad. Like Joe said earlier today, it's a Lamborghini selling at the price of a 30 year-old VW bug, and tech geeks know it.