Investors uneasy after Steve Jobs resigns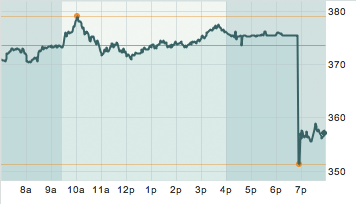 Apple shares fell 6 percent in after-hours trading tonight following Steve Jobs' stunning and unexpected resignation. Apple's board named COO Tim Cook, who has been running the company for about eight months, as Jobs' successor.
Apple shares were down more than $20 after-hours. Before the resignation announcement, Apple shares closed up slightly -- $373.60, off the opening of $373.46. The real question: How will investors react tomorrow when markets reopen for trading?
Shareholders' unease shows just how much the man is inseparable from the brand, even while Cook smoothly navigated Apple to higher revenues and profits. In January, Jobs took his second medical leave in two years, this time without an end date. The previous leave was for sixth months. This one suggested that cancer-recover and liver-transplant recipient Jobs was in poor health again. Today's resignation is all but certain confirmation.
Jobs is passionate about the company he co-founded in 1976 and returned to in late 1996. He assumed the role of interim CEO in 1997, later dropping "interim" from the title. Following the disastrous PowerMac G4 launch at the turn of the millennium that left Apple sitting on mountains of unsold inventory and a series of quarterly losses, Jobs oversaw a series of innovations that changed Apple's fortune -- quite literally. In order: iTunes, Mac OS X, Apple Store, iPod, iLife, iTunes Store, iPhone, iOS, App Store, iPad, Mac App Store and MacBook Air.
It's hard to imagine Jobs stepping away from his passion by choice. His resignation letter isn't ambiguous: "I have always said if there ever came a day when I could no longer meet my duties and expectations as Apple's CEO, I would be the first to let you know. Unfortunately, that day has come. I hereby resign as CEO of Apple".
"That day has come" -- a chilling statement for anyone infected by Jobs' passion, as surely many investors are.
Tomorrow they will pass judgement on Cook and Apple's ability to go on without Jobs -- or at least with the man in a less hands-on role. He will remain as Chairman of the board.
Cook has deftly managed Apple's day-to-day operations, something nervous investors should remember. In the first half of this year, Apple generated $53.24 billion in revenue compared to $29.2 billion during the same period in 2010. The company is on a stunning roll, with $75 billion in cash and securities and rising revenue and earnings that show no signs of stopping.
There's perception perhaps among some people that Jobs is Apple. But the company and its products are much less now about passion and more about logistics. There, Cook has proven to be masterful manager. Apple operates one of the tightest, most efficient supply chains anywhere -- not just among tech companies. This efficiency and smart planning has helped iPad, iPhone and iOS to make shattering gains in markets dominated by incumbents like Nokia and Research in Motion -- or HP, which last week abandoned TouchPad after just six weeks of sales.
Jobs' iconic status is indisputable, and he most certainly will have a place in the history books. But his future place at Apple is all but over. The Apple Fanclub of bloggers and journalists gets livid at any mention of Jobs' health. He's ill. Everyone knows it. Now we have a sense of how much. That's good, because people can wish him well, send their positive thoughts or prayers.
As for investors, they're the problem should they panic and punish the stock. I promise them this: Apple won't earn one cent less during this quarter or the next simply because Jobs resigned today. If anything, there is clarity. There are no more concerns about CEO succession or who's running things. Tim Cook is in charge now, and it's a role earned by making magic while standing in a giant's shadow.
We offer our best wishes to Jobs, who leaves a lasting legacy for anyone chuckling through a Pixar movie or using an iPad, iPhone or Mac today.