Don't look for big changes in Thunderbird 7 beta and 8 'Earlybird'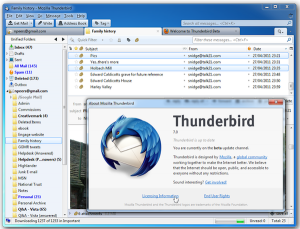 Mozilla has released beta and alpha versions of Thunderbird for testing purposes, mirroring the release cycle of Thunderbird's sister project, Firefox. Thunderbird 7 Beta, which will install over the top of any existing Thunderbird installation, has no major headline changes – the release notes mention support for printing a summary of selected email messages, but this functionality is already present in the current stable release, Thunderbird 6 Final.
Other reported changes are minor fixes and interface tweaks, including various fixes related to the way Thunderbird handles attachments. Also appearing on Mozilla's download server is Thunderbird's alpha build, which has a different name -- Earlybird 8.0a2 – and which installs alongside an existing beta or stable build.
Earlybird 8.0a2 hasn't yet been officially released, and so no change log has been made public yet. We trawled various channels plus installed and ran the program to see whether any major new features were making their debut, but were unable to discern what changes are coming in version 8. These should be revealed when the program is officially released and its own release channel page is placed online.
With no obvious new features to speak of in versions 7 and 8, it appears the early consequence of Thunderbird's shift to the same rapid release cycle as Firefox is little more than cosmetic, although that belies the number of bug fixes, interface tweaks and performance improvements going on behind the scenes.
Despite the lack of any notable new features in these two new builds, there are some major changes being discussed by Thunderbird developers online. One interesting feature is the Address Book. In a recent blog post, Thunderbird developer Mike Conley revealed plans for a revamp of the program's Address Book, which has remained largely unchanged since Thunderbird first split from Netscape Communicator.
Plans are still very much in their infancy, but some of the tweaks planned include giving the Address Book its own tab in Thunderbird as opposed to a separate window. Where contacts appear as separate entries across multiple address books and groups, it's hoped they'll be able to be "merged" into a single contact for the purposes of being viewed in Thunderbird. Changes will also be synced between address books seamlessly in the background while each one retains its independence. There will also be undo and redo for any information that gets edited.
Another change that was slated to appear in Thunderbird 7 or 8, but has slipped to Thunderbird 9 Beta (and may slip again) is the Test Pilot feature. This is already present in pre-release versions of Firefox, and provides a structured feedback form for those testing beta and Aurora builds of Firefox.
Thunderbird Beta 7 and Earlybird 8.02a1 are available for download now for Windows, Mac and Linux. For those who wish to stick with the latest stable build, Thunderbird 6 Final is also available.