ABBYY FineReader now supports popular e-reader formats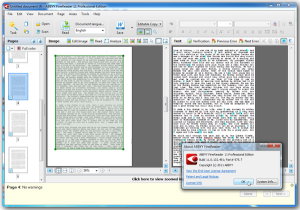 Moscow-based optical character recognition specialist ABBYY has released a major new update of its renowned OCR application. ABBYY FineReader 11 Professional Edition, which allows users to convert images or scanned documents into editable text, boasts improved processing speeds of up to 45 per cent thanks to a new black and white processing mode.
Version 11 also adds an ebook creation tool and direct support for OpenOffice Writer, plus incorporates a tool to improve the bulk processing of documents while promising to improve the accuracy when scanning and formatting complex documents.
The new black and white processing mode is joined by an improved Fast Reading mode, which ABBYY claims delivers results up to 70 percent quicker than its Thorough Reading mode. It also promises to scan and process Asian text 45 percent quicker than before too.
Complex documents containing charts, tables and other non-standard elements are now formatted more correctly thanks to FineReader's Enhanced Advanced Document Reading Technology (ADRT), which preserves formatting and other critical elements whatever your choice of output format.
A new ebook creation tool supports EPUB and FB2 format, and can even send your finished ebooks directly to your Kindle account or electronic archive. The program also adds support for OpenOffice/LibreOffice Writer documents (ODF), allowing users to convert documents and images directly into editable ODF documents, complete with preserved layout.
With text processing up to 45-percent faster than the previous version, you can work through scanned documents more swiftly.
FineReader 11 also promises a more enhanced user interface, with improved Verification and Style Editor tools, while there's a new Split Documents Tool that allows a mix and match of documents to be processed in bulk and then arranged into separate files.
The program also improves its handling of photos taken by cameras and smartphones, and has beefed up its image-editing tools to add new brightness, contrast and tonal tools to aid in improving the document's subsequent processing. PDF conversion has also been improved, with file sizes capable of being compressed by up to 80 per cent smaller than the previous version with minimal quality degradation. There's also a tool for exporting images in the DjVu format, which take up very little disk space.
ABBYY FineReader 11 Professional Edition is available now as a free trial with some minor feature restrictions, which will either expire after 15 days or when 50 pages have been processed. It requires a PC with 1GHz processor running Windows XP or later. The full version costs $170, or $100 as an upgrade from a previous version.