Google buys esteemed restaurant review guide Zagat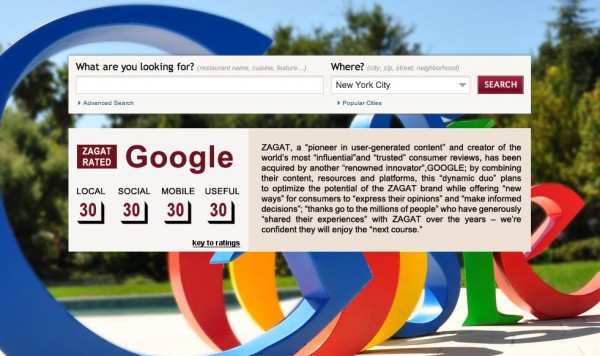 Google today announced it has purchased Zagat, the 32 year-old ratings guide considered to be a definitive standard of quality for restaurants, hotels, transportation services, and public attractions.
Marissa Mayer, Vice President of, Google Local, Maps and Location Services, said Zagat will become the cornerstone of Google's local offerings.
"The Zagats have demonstrated their ability to innovate and to do so with tremendous insight. Their surveys may be one of the earliest forms of UGC (user-generated content)—gathering restaurant recommendations from friends, computing and distributing ratings before the Internet as we know it today even existed. Their iconic pocket-sized guides with paragraphs summarizing and 'snippeting' sentiment were 'mobile' before 'mobile' involved electronics," Mayer said on Thursday.
The acquisition came as a surprise on Thursday, but Google's intent to put greater emphasis on location-based services has been very clear.
In 2009, the company was even reportedly in talks with Yelp, the popular Web site that offers customer reviews of businesses very similar to those provided by Zagat.
Earlier this year Google revealed a new service called HotPot in which users posted reviews of restaurants with their Google Profiles directly within Google Maps. Just three months ago, Google launched a redesigned mobile site that focuses on providing information about nearby businesses such as coffee shops, bars, ATMs, and more.