Bing brings voice search to Xbox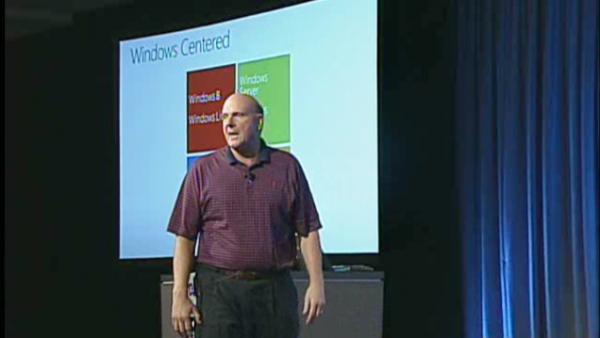 Microsoft CEO Steve Ballmer made absolutely clear today why the company continues to invest in search, even though it's a money-losing business and Google's market share is so big (and not really declining). He described Bing as a "fundamental set of core technologies" that Microsoft plans to leverage seemingly everywhere.
Earlier in the day, during the BUILD developer conference Day 2 keynote, Server and Tools President Satya Nadella gave several examples how developers can incorporate Bing datasets into their applications development. Bing isn't just about search, but about information made available for third-party applications and services and for software development.
The approach sets an absolute collision course between Google and Microsoft in a way that hasn't been much discussed. Google also leverages search and supporting data to third-party products and its own, too. But Microsoft is increasingly positioning search and related informational technologies as a development platform -- or at least an adjunct to its other development platforms.
Ballmer gave one example how Microsoft will further search, by bringing Bing to Xbox for the the holidays. "We're trying to give the TV a new voice. Your voice", he said. Microsoft plans to greatly increase the amount of content available via Xbox. "It brings a new challenge", he observed. "How are you going to find things?" Microsoft's solution is combining voice commands with Bing search. "You say it, Xbox finds it", he said.
While discussing Xbox, Ballmer said that Microsoft would also start to bring live TV broadcasts to Xbox, beginning during the holidays. I've got to ask: Is it live or is it Xbox?
Ballmer also identified Microsoft's go-forward priorities:
* Windows centered (hub for all-company strategy)
* New hardware form factors (PCs and devices)
* Natural user interfaces (such as Kinect)
* Cloud (Azure, Office 365, hosted app servers)
* Enterprise and consumers (consumer innovations filter down to businesses)
* First-party applications (Microsoft's own software)
He affirmed Microsoft's commitment and hope for Windows Phone. Ballmer acknowledged that first-year sales weren't what he would have hoped. But he praised the software's advance from version 1 to 2. (Isn't it really 1.5?) Ballmer emphasized the importance of bringing Nokia to Windows Phone as a dedicated hardware partner.
Microsoft's CEO also spoke at length about the importance of acquiring Skype. The company, the technology, the customers and other relationships are essential for the future. Ballmer sees video as being a hugely important form of user-generated content and communications in the future.