Windows 8 Developer Preview downloads top 500,000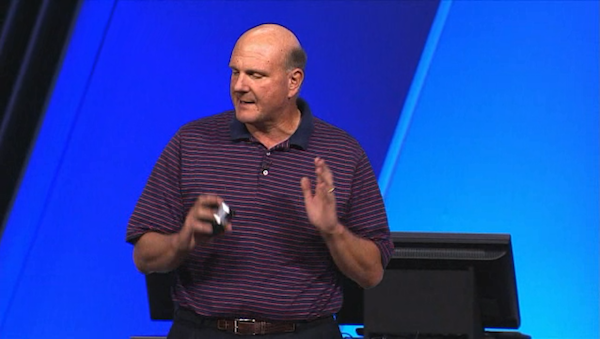 "We still have a long ways to go with Windows 8", Microsoft CEO Steve Ballmer told BUILD developer conference attendees today. "We've got a lot of work to do". But the work is off to a good start, as he announced 500,000 downloads of the developer preview released last night at 11 p.m. ET.
Yesterday, Steven Sinofsky, Windows & Windows Live president, described the "re-imaging" of Windows. Today, Ballmer went further, calling the strategy bigger -- the re-imaging of Microsoft. "We're all in. We're retooling all that we do" around all Microsoft's platforms.
"Windows [is] at the center", he emphasized and that Microsoft's future and new products and services will "pivot around the changes we're making to Windows". Ballmer didn't diminish Microsoft's push to the cloud but put it in context of Windows. He emphasized that it's still "extremely early" for cloud services. So while many competing executives or developers talk about the cloud as the center, Ballmer made clear the importance of Windows -- whether on PC, phone or server -- as the hub.
It's a sensible perspective for Ballmer, whose job is to maintain the relevance of Windows and PC software rather than letting relevancy shift to cloud-connected devices. Along that path and Windows supporting new chips, Ballmer told developers: "It's not going to be Intel or ARM, it's going to be Intel and ARM".
"This year there will be 350 million Windows devices sold, and that creates opportunities for developers", Ballmer said. "There's never been a better time to have software development as a core skill". When Windows 8 ships, "there will be at least 500 million Windows PCs" that can be upgraded.
"We want you to make money from the work you've done...that's super important to us", Ballmer told developers. To that end, Microsoft is improving the Windows platform so that developers can capture more capabilities while writing less code.
"It's the day and age of the developer", Ballmer proclaimed. "It's the day and age of the Windows developer" -- to which the BUILD audience clapped.
Ballmer wrapped up the Day 2 keynote. "Let's move forward together and seize the opportunity for: Developers! Developers! Developers!"