Samsung launches Galaxy S II LTE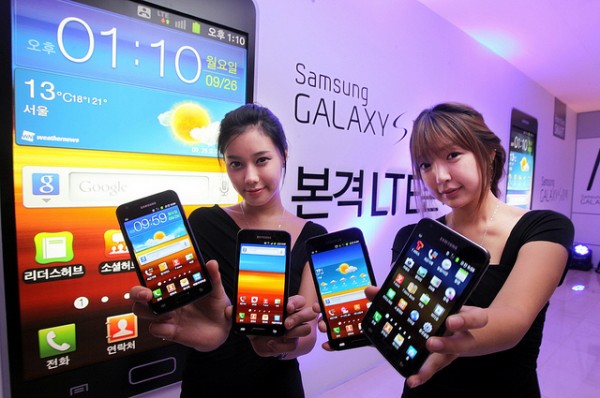 The day after revealing that 10 million Galaxy S II smartphones had sold (or is that shipped?) in five months, Samsung unveiled LTE models. S2 LTE and HD LTE smartphones will first be available in South Korea, where Samsung already has sold 3.6 million original S2s.
The Galaxy S II HD LTE features a stunning 4.65-inch Super AMOLED display -- 1280 x 720 screen resolution. The 316-ppi pixel density is slightly less than iPhone 4, but the larger display, greater resolution and crisper contrast of the Super AMOLED screen should outshine Apple's smartphone. However, that Super AMOLED lacks the "Plus" screen found on other S2s, including the new LTE model.
The S2 HD LTE should send geeks pining for the Nexus S successor into a tizzy. If not, here's a reason: Google's flagship stock-Android phone is due for an upgrade -- and, whoa, rumors are rampant that it will have a 4.65-inch display. Could it be that the Nexus Prime -- or whatever it will be called -- also will pack same high resolution, high pixel-density screen and LTE as the new Galaxy S II? Consider that gadget geeks before plunking down your hard-saved cash for AT&T's S2 when it goes on sale October 2.
Samsung redesigned the case to keep the S2 HD LTE thin; the phone is just 9.5mm thick. The company is promoting the phone's screen as providing "HD Theatre in hand".
The Galaxy S II LTE features a 4.5-inch Super AMOLED Plus display, like the US model shipping from Sprint and coming from T-Mobile. AT&T's S2 packs the same 4.3-inch screen as the original model shipping internationally.
The upgrades don't stop with the screens or LTE. Both phones feature 1.5GHz dual-core processors; the non-LTE S2s have 1.2GHz dual-core processors. From that perspective, AT&T hasn't even started selling Galaxy S II and it's outdated. Welcome to the new PC era, folks. Like PCs in the 1990s, when something new and faster seemingly came along days after the next-best thing debuted, so are smartphone features advancing at fast click. Today's smartphone screamer is tomorrow's has been.
It will be interesting to see how Apple alleges these new Samsung smartphones copy iPhone 4. Surely some lawyer will think of something.
Yesterday afternoon, I stopped by a Sprint Store to look at the carrier's Galaxy S II -- the Epic 4G Touch. I was struck by how little it looks like iPhone 4. The Epic 4G is thinner; there's no metal band around the side; the display is huge by comparison; the screen is remarkably brighter with more vivid colors and better contrast; and TouchWiz UI behaves quite differently than iOS, among other attributes.
By the way, the Super AMOLED Plus display is simply amazing. I nearly bought the Epic 4G on the spot, and I'm not a Sprint subscriber (which is what held me back).
So, gadget geeks, I've got to ask: If considering one of the US Galaxy S II models, will you now hold out for the Nexus Prime (or whatever it's called) on the chance of faster processor, bigger, beefier display or LTE?
Photo Credit: Samsung