Here's the video game you should buy this holiday season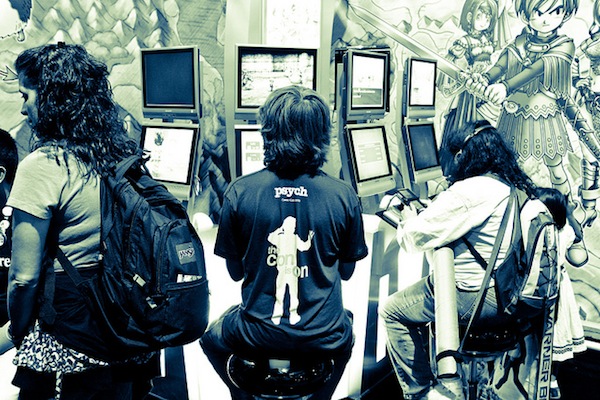 If you have a gamer in your household, this is a story you might want to read before deciding what to buy them this holiday season.
First person shooters remain hot according to a survey of hotly anticipated upcoming video games, as the top two most sought after games fall in the genre. Research firm Nielsen found that Call of Duty: Modern Warfare 3, available November 8, tops many gamer's wish lists: a quarter of respondents listed the title in their top five holiday games.
This was followed by the popular Xbox 360 franchise title Gears of War 3, which 19 percent of respondents placed in their lists. Gears of War was released on September 20.
Franchise titles also remain popular and out of the top 20 games on Nielsen's list, all but one game is part of a bigger franchise. Notable franchise titles in the top ten included EA Sports' Madden NFL '12, Nintendo's The Legend of Zelda: Skyward Sword, and 2K Interactive's NBA 2K12.
"While Action/Adventure games hold the most spots in the Top 20, the list is a testament to the diverse interests of today's gamers—from the intense action of First Person Shooters like Square Enix's Deus Ex: Human Revolution, to the energetic enthusiasm of Music/Rhythm games such as Ubisoft's Just Dance 3, to the epic sense of adventure in Bethesda's RPG Elder Scrolls V: Skyrim," the firm said in its report.
In addition to asking what titles gamers are seeking, Nielsen also attempted to understand why. The allure of the launch parties and apparent darker and harder storyline of Call of Duty 3 are among the reasons why gamers can't wait for its release; while downloadable previews and multi-player functionality are attracting gamers to the new Assassin's Creed.
The study was conducted between August 21 and September 17, and interviewed approximately 5,000 gamers who were asked to list five games that they're most excited about this holiday season. The buzz surrounding these titles come from over 417 million online conversations scanned by Nielsen's NM Incite division.
We've obtained the full 20 game list from Nielsen and are curious to hear whether any of these titles interest you. Any title not on the list that is on your top five games of the holidays? Speak up in the comments.
Nielsen's Top 20 Games to Watch for Holiday 2011
Title
Genre
Platforms
Publisher
% Choosing
as Top 5
Key Elements of Online Conversations
Call of Duty: Modern Warfare 3
Shooter
360, PS3, Wii, PC
Activision
27%
upcoming launch parties, changes in the new game, 'darker mood', hardened version vs standard
Gears of War 3
Shooter
360
Microsoft Game Studios
19%
high anticipation for launch, best prices at retailers, sharing info on codes and downloads
Madden NFL 12
Sports (Simulated)
360, PS3, Wii, PSP
Electronic Arts
19%
challenge matches, calling in sick in order to play
Assassin's Creed: Revelations
Action / Adv
360, PS3, PC
Ubisoft
17%
downloadable previews, multi-player functionality
Batman: Arkham City
Action / Adv
360, PS3, PC
Warner Bros Interactive
15%
new villains in the game
The Legend of Zelda: Skyward Sword
Action / Adv
Wii
Nintendo
14%
nostalgia for series brings back 'old school' gamers, similar feel to Ocarina Of Time
Battlefield 3
Shooter
360, PS3, PC
Electronic Arts
12%
many feel this title is superior to competing titles in the genre, differences in game performance by platform
Just Dance 3
Music / Rhythm
360, PS3, Wii
Ubisoft
12%
excitement for new tracks announced
NBA 2K12
Sports (Simulated)
360, PS3, Wii, PC, PSP
2K Interactive
9%
online demos, discussions of how to adjust schedule to allow more time to play
Need for Speed: The Run
Racing / Driving
360, PS3, Wii, PC, 3DS
Electronic Arts
9%
exclusive Porsche models in the game, anticipation as a holiday gift
Uncharted 3: Drake's Deception
Action / Adv
PS3
Sony Computer Entertainment
9%
high expectations of this title being even better than the previous iterations
Mario & Sonic at the London 2012 Olympic Games
Sports (Arcade)
Wii, 3DS
SEGA
8%
gaming experts mention this title alongside other titles announced at the 3DS conference
LEGO Harry Potter: Years 5-7
Action / Adv
360, PS3, Wii, PC, PSP, DS, 3DS
Warner Bros Interactive
8%
sharing previews and speculation on the upcoming game
FIFA Soccer 12
Sports (Simulated)
360, PS3, Wii, PC, PSP, DS, 3DS
Electronic Arts
8%
FIFA vs Madden, desires for more pro and career mode options in the new release
The Elder Scrolls V: Skyrim
RPG
360, PS3, PC
Bethesda Softworks
8%
M rating / graphic nature not a deterrent, daily countdown until release
Dead Island
Action / Adv
360, PS3, PC
Deep Silver
7%
looking for gaming partners for online co-op
Kinect Sports: Season 2
Sports (Arcade)
360
Microsoft Game Studios
6%
high expectations for the upcoming sequel, considerable attention from casual gamers
Resistance 3
Shooter
PS3
Sony Computer Entertainment
4%
franchise fans call it a 'must have' 'game of the year'
Dance Central 2
Music / Rhythm
360
Microsoft Game Studios
4%
enthusiasm for the ability to import songs from the original title
Deus Ex: Human Revolution
Shooter
360, PS3, PC
Square Enix
3%
best prices at retailers, differences in game performance by platform
Source: Nielsen
Photo Credit: Joe Wilcox