Adobe stiffs Apple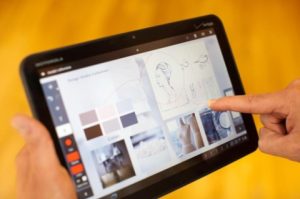 Android tablets got what can only be described as their greatest endorsement to date, with stunning support from one of the world's largest and most successful software developers. Today at its MAX 2011 conference, Adobe unveiled the suite of six Touch Apps, which will be available for Android tablets in November. There is no ETA for iPad, except announcement planned for 2012. Considering how much better iPad is selling than Android tablets, Adobe's choice can't be meaningfully described. The developer has chosen the lower-volume competitor instead of the overwhelming leader.
Adobe's decision says much about its increasing rivalry with Apple, the sometimes onerous App Store approval process (particularly for competitors) and relative openness of Android compared to iOS. It's perhaps a slap across Apple's face that the marketing photos on Adobe web pages for Touch Apps show Android tablets. There's nothing subtle about that.
At a time when seemingly every developer of any size supports iOS, Adobe stands apart from the rest. The six apps, which will sell for $9.99 each, offer some of the best features of Creative Suite but designed for touch tablets and supported by the Creative Cloud service, which Adobe also announced today.
Gartner predicts that nearly 64 million tablets will be sold this year, the majority by Apple. The analyst firm forecasts 73.4 percent market share, from 46.7 million iPads sold. By comparison, Android sales are expected to be a lowly 11 million units.
But Adobe has been here before. The developer was at the forefront of the PC era with its desktop publishing applications, including software, typefaces and Portable Document Format, but offered mainly for the Mac. Apple's platform was the low-volume leader compared to DOS/Windows and where Adobe committed most of its resources for years.
Android tablets are lower volume, but high-volume promise given the platform's success on smartphones and the soon-to-be-released Ice Cream Sandwich that brings together Android 2.x for handsets and 3.x for tablets together.
What does Adobe know that you or I don't? It's perhaps no coincidence that Touch Apps launch in November, which is the latest Ice Cream sandwich is now expected. Google has already indicated delivery sometime this month or next.
Apple's iOS 5 is likely to come first, given tomorrow's expected new iPhone announcement. So there's question: why not iPad first?
Adobe offers some iPad apps already: Color Lava, Eazel and Nav, released in April.
Tensions between Adobe and Apple have never been greater, particularly as the iPhone maker releases more creation apps.
Android offers developers and tablet users more flexibility than does iOS, in part because of Apple's more restrictive rules.
Google has incentive to show Adobe the red carpet, understanding what the content creation apps and Adobe's support could mean for the platform's future.
There are different-size Android tablets to choice from, ranging from 7 inches to 10 inches (as long as resolution is 1280 x 800). Meaning: There is more than one size canvas than Apple's 9.7-inch tablet.
That's a short list. For Android, Touch Apps and Creative Cloud could transform the platform by offering the missing killer application(s). Desktop publishing apps breathed life into fledgling Macintosh in the mid-1980s. Adobe is laying out the model with Touch Apps and Creative Cloud for making tablets as much, if not more, about content creation as consumption.
More importantly, the tablet apps and cloud service squarely target design professionals. As Windows and other successful platforms show, businesses matter more than consumers.