Live TV on Xbox 360 launching in 20 countries with 40 content partners

Microsoft on Wednesday announced it will be rolling out an update to Xbox Live that brings live streaming pay television to the Xbox 360 without any additional hardware required.
Microsoft first launched live TV on the Xbox 360 to limited audiences last year, and earlier this year announced its intention to bring live TV to a broader range of XBox Live subscribers in the fall (i.e. now).
Today, Microsoft announced its partnerships with around 40 content providers in more than 20 countries, including Bravo, Comcast, HBO GO, Verizon FiOS and Syfy in the U.S.; BBC in the U.K., Telefónica in Spain; Rogers On Demand in Canada; Televisa in Mexico; ZDF in Germany; and MediaSet in Italy. Live TV services will begin rolling out to Xbox Live subscribers during the holiday season.
Each provider is supplying something different to the service, so it will not be a uniform experience for all users. Verizon FiOS subscribers, for example, will have access to live streaming channels, while Comcast subscribers will only have access to its catalog of on demand titles.
The live television element that Xbox Live will get is worthy of consideration because linear content streaming is still, after many years, only a developing method of content distribution.
Roku's popular Netflix set-top box debuted its first linear streaming channel earlier this year, and just three months ago added a Foxnews.com channel which is sort of a hybrid live/on demand channel, including live broadcasts at certain times of day, and on-demand content for the rest.
But live content distribution puts extremely heavy load on the data networks, especially during the "prime time" hours, and with 30 million Xbox Live members, a popular live TV show could be disruptive.
Robert Levitan, CEO of Content Delivery Network service provider Pando Networks, said "The demand for high quality online media content in the US currently overwhelms existing network capacity during peak hours. I am excited and glad to see this new Microsoft offering, but satiating the demand of 30 million Xbox users will further overwhelm network infrastructure. The topology of existing networks is not elastic to meet spikes in demand even if they can be anticipated during certain time periods."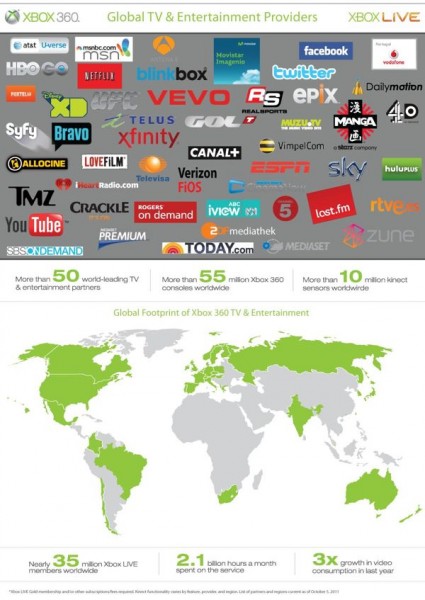 Mark Taylor, Vice President of Media and IP Services at Level 3 Networks doesn't think 30 million users will make too tremendous of a difference to the overall performance of a given network.
"The thing that affects the network capacity is the number of concurrent users - the number of people streaming at the same time. I don't think that this new service from Verizon will approach the popularity of either Hulu or Netflix in terms of concurrent users so there should be no problem with network capacity. Verizon has a CDN built into their network for this sort of delivery. Today we are delivering services on behalf of people like Netflix and we get real time data from every single client device - the vast majority of streams in the US are sustained at the highest bit rate (around 3Mbps) and never experience a buffer or stall."
How, then would a live TV streaming service effect the total traffic on Xbox Live, which is largely dedicated to live gaming?
"This sort of service imposes different challenges to gaming. Yes this sort of service will generate a higher number of bits (bandwidth) than most gaming applications (services like Gaikai may change that in the future). However, for hosted games it is vitally important that the latency is very low," Taylor said. "That is the response time between the gamer pressing a key on a control pad and the sever that is hosting the game. Although both the sheer number of bits delivered by streamed videos and the low latency response times needed for gaming are made possible by CDN infrastructure, the actual technologies utilized are different. Both are hard, which is why there are only a few successful CDNs."