Nuance acquires innovative virtual keyboard maker Swype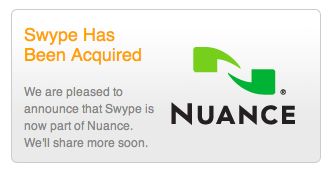 Nuance Communications has acquired drag-to-type virtual keyboard maker Swype for an undisclosed amount of money believed to be more than $100 million.
The acquisition should be an obvious one to anyone who paid attention to Nuance Communications.
Two years ago I said this acquisition was one of two possible outcomes for Swype.
Why's That?
Because Nuance built much of its success on T9 text prediction, which was actually invented by Swype's co-founder Cliff Kushler. Nuance later extended T9 text prediction into a product called T9 Trace…which was essentially the same product as Swype.
But judging by what Nuance showed us, and the company's comments about Swype, it didn't look to be creating a competitor, so much as a proof of concept that Swype and T9 could be unified in a single multi-modal text information input stack.
So even though Swype has found a great deal of success on its own getting hooked up with various handset makers as an optional text input method, Nuance's existing customer base comprises well over 85% of all phones.
Under Nuance, Swype can be licensed out much more efficiently. Now, manufacturers can have a text prediction engine, a speech recognition engine, and a novel keyboard all from a single body.
Neither Swype nor Nuance has issued a statement today, but both companies' websites have small announcements dedicated to the acquisition. We'll be looking for more information today.
Tim's disclosures, which include the fact that he's a Nuance shareholder