Apple and Lenovo make shocking Q3 PC sales gains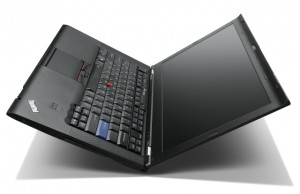 I'm quite critical of the Apple Fanclub of bloggers and journalists for overreaching pretty much anything regarding the Cupertino, Calif.-based company. They'll quote data from firms no one has heard of to make Apple and its products much bigger successes than they are. And because this group is so loudmouth, their exaggerations and lies are widely read and often taken for fact. But ever so occasionally, something altogether legitimate comes along. Today is that day. Mac market share soared during third quarter, according to Gartner and IDC, which both released preliminary data today.
By Gartner's reckoning, Apple's percentage of US PC shipments during the quarter was a stunning 12.9 percent, a solid and unchallenged third place. Fourth-ranked Toshiba had 8.4 percent share. IDC's numbers weren't as magnanimous -- 11.3 percent -- but still better than Apple has had in nearly two decades. But there's more than shocking Mac news in the data. Lenovo has unseated Dell as the No. 2 PC manufacturer worldwide, according to both analyst firms. With HP considering selling off its PC division and given Lenovo's dramatic gains, the China-based company could snatch the top spot in just a few quarters.
"Lenovo has captured incredible marketplace momentum to surpass two competitors to capture the No. 2 spot in worldwide PCs over the span of just two quarters", Lenovo CEO Yuanqing Yang, says in a statement. "This is the highest rank Lenovo has achieved in worldwide PC sales and, given the current competitive environment, positions the company as a strong challenger to ultimately become the global market leader".
Apple and Lenovo successes come during another tough quarter for PC manufacturers. Shipments rose 3.2 percent year over year, according to Gartner, missing its forecast of 5.1 percent growth. IDC put growth lower -- 2.7 percent -- and off its 4.5-percent growth forecast. Manufacturers shipped 91.8 million PCs, according to both analyst firms.
An alarming trend continued: "The popularity of non-PC devices, including media tablets, such as the iPad and smartphones, took consumers' spending away from PC", Mikako Kitagawa, Principal Gartner analyst, says in a statement. "The PC industry has been performing below normal seasonality. As expected, back-to-school PC sales were disappointing in mature markets, confirming that the consumer PC market continues to be weak".
While consumers shift buying priorities to more personal, portable devices like smartphones and media tablets, there's a related factor: The economy, which has forced PC manufacturers to slowdown shipments. However, "the inventory buildup, which slowed growth the last four quarters, mostly cleared out during the third quarter of this year", Kitagawa says.
"For the moment, PCs have taken a backseat to a range of other devices competing for shrinking consumer and business budgets," Jay Chou, IDC senior research analyst, says in a statement.
"Most vendors continue to struggle with the slow market environment and product changes", Loren Loverde, IDC vice president, says in a statement. "We don't see media tablets and other devices replacing PCs", but he calls them "distractions" dragging sales. "Still, there are opportunities, as demonstrated by Lenovo's gains".
Note: First two charts are from Gartner, second two from IDC.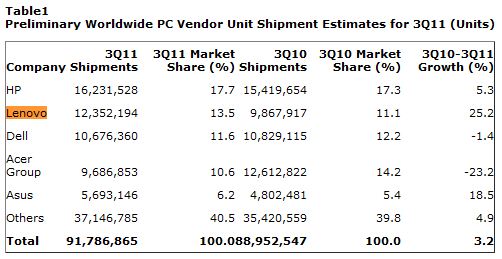 "While growth is expected to stay in mid-single digits in the fourth quarter, we should see faster growth in 2012 and beyond based on easier comparisons and refreshed PC offerings as the industry better addresses the evolving usage models by integrating more of the features in ultra mobile devices", Chou says.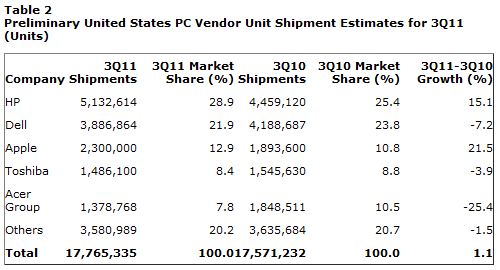 Perhaps, but in the world's largest economy, PC sales look grim going into holidays, with Apple, HP and Lenovo in best shape. US PC sales grew 1.1 percent during third quarter, which isn't much to cheer about. Gains can largely be attributed to channel restocking after three earlier quarters of declines. By comparison, IDC put US shipments flat year over year.
"The main contributor to the weak consumer PC market in the US. was intensified competition for consumers' money", Kitagawa says. "Media tablets and smartphones took center stage in the US retail sector, and the expectation is for continuing demand for these devices throughout the holiday season".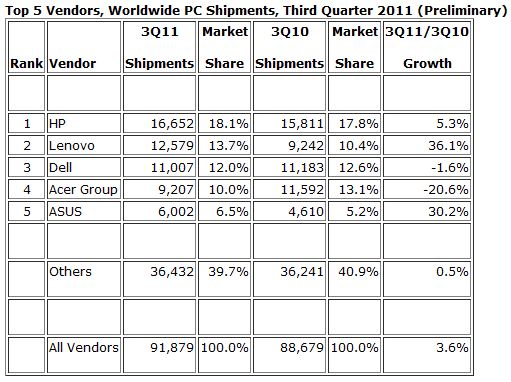 But IDC sees broader problems -- "the state of saturation and lack of incentives for consumers to upgrade", David Daoud, IDC research director, says in a statement. "Inhibitors included the poor economic environment and, to a certain extent, iPad cannibalization". For the holidays, "the opportunity for low single-digit growth is real, but mostly as a result of poor market conditions last year, as opposed to a recovery in demand".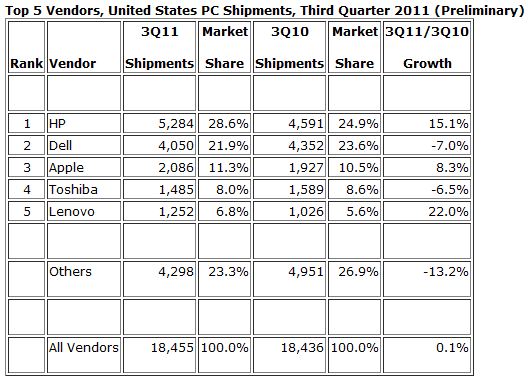 MacBook Air lifted Apple PC shipments during Q3, according to Gartner's preliminary estimates. Going into the holidays, Acer and Asus, among others, will seek to capture some of that thin-and-light magic with their first Ultrabooks. But Apple has huge retail presence, just from its 245 company stores, and from partners like Best Buy.
Meanwhile, Lenovo's gains are global and far outpace Apple. IDC noted that Lenovo's growth exceeded the market by more than 10 percent for nine straight quarters and by more than 20 percent for six consecutive quarters. The company benefits in part by resoundingly capitalizing on "disarray among the other top players".