AOL Radio cuts commercials by half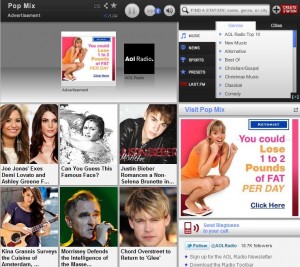 Aiming to better compete with services like Pandora, AOL relaunched its radio app on Wednesday. The new service is powered by Slacker, and cuts the amount of commercials in half.
Pandora inserts about 45 seconds worth of commercials per hour, according to recent statements by the company. AOL Radio will now broadcast three minutes of commercials every hour versus six, aiming to respond to the most common complaint about its service: the number of commercials.
A free application with Slacker integration launches in about a week.
AOL Radio with Slacker brings several new features, including on-demand music -- a shot across the bow of Spotify -- and offline playback, custom stations, and a 10-million plus song library. AOL and Slacker first announced their partnership in June.
"New listeners will be surprised at the evolution of AOL Radio and its vast programming choices now matched up with expansive features," AOL Music and Radio chief Lisa Namerow says.
The switchover brings AOL Radio full circle. The company's first foray into streaming music came with the acquisition of Spinner in June 1999. That service was rolled into Radio@AOL in 2001, although the Spinner brand lived on as a music site within the AOL network.
Since the Spinner buyout, AOL Radio has had a number of partners, including a deal with XM that lasted from 2005 to 2008 and CBS Radio after that.
Slacker brings additional content from ABC properties, including ESPN and ABC News. AOL Radio's 200-plus stations will also remain.
Subscription services are the next step, and will launch next month, the company says. 'Radio Plus' eliminates all advertisements and enables further customization for $3.99 per month, while 'Premium Radio' adds on-demand listening for $9.99 monthly.