Android share rises (again), iOS still stagnant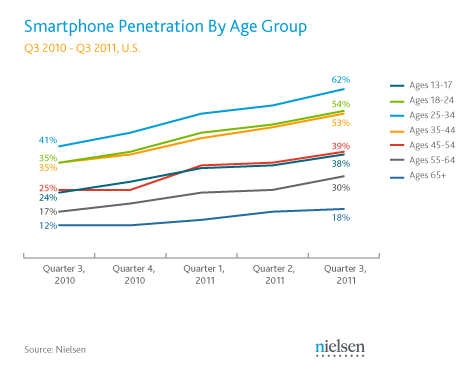 The US smartphone market has become so consistent -- Android gains, iPhone is stagnant -- that Nielsen has started revealing other interesting trends, as it did today. First, for the fanboys: Android share among US subscribers 13 or older was 43 percent at the end of third quarter, up from 39 percent at the end of June. Meanwhile, iPhone is top-selling smartphone, but iOS share is stuck at 28 percent, following a trend fairly consistent since mid 2010.
Each fan group has some number to wave around: Android as top-selling smartphone OS (and continually gaining) and iPhone leading handset in its class. To fan the fanboy fires, I should point out that iOS could finally get some pick up from new US iPhone carriers C Spire Wireless and Sprint. However, some of the hottest Android phones either shipped or will ship this quarter, including 4G LTE packing Motorola Droid Razr and Galaxy Nexus on Verizon and HTC Vivid and Samsung Galaxy S II Skyrocket on AT&T. iPhone 4S lacks LTE.
For anyone keeping track, BlackBerry OS share fell 2 points to 18 percent quarter on quarter. Windows Mobile/Phone held steady at 7 percent. For the Microsoft fanboys, don't feel left out. Windows Phone 7.5 handsets shipping this quarter, such as Samsung Focus S 4G, could finally lift Microsoft's smartphone OS share.
Now to Nielsen's other findings. Forty-three percent of US cellphone subscribers, again 13 or older, had a smartphone at the end of September -- up from 40 percent at the end of July. Interestingly, keeping an ongoing trend, Android OS share tracks consistently with overall smartphone share. Make of that what you will.
More Americans 25-34 have smartphones than any other segment -- 62 percent. It's over 50 percent for anyone older than 17 and younger than 45. Forty-percent of 13-to-17 year olds have smartphones. The oldest segments are least likely to have smartphones -- only 18 percent among those 65 or older. My soon-to-be 90 year-old father-in-law has iPhone 4, which we updated to iOS 5 last night. The many changes already stun him, and it will be worse after upgrading his computer to Mac OS X 10.7. There's a reason to stick with more familiar feature phones.