Who is buying HTC Vivid or Samsung Galaxy S II Skyrocket?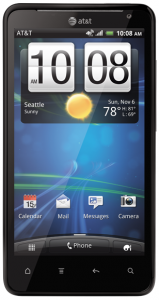 Not me, likely, and I'm surprised by the answer.
Today, AT&T flipped the 4G LTE service switch in four additional markets and launched its first supporting smartphones -- HTC Vivid and Samsung Galaxy S II Skyocket. Last week, I asked "Who will buy them?" I'm less surprised by your responses than my own.
Several BetaNews readers are in the same pickle barrel as me. They bought the Galaxy S II around the time of its October 2 release, which is outside AT&T's 30-day return period (with $35 stocking fee) to get the Skyrocket. The question: Why wouldn't you take the LTE and HSPA+ model over the HSPA+-only one, extending your phone investment over the life of the two-year contract?
BetaNews commenter VivekK offers the simplest solution to the 30-day return policy problem: "U know U can return the phone saying that something is wrong right? Do that, and U can get the LTE phone when it releases -- that's what I did. :D" I would more likely try to cajole bending the rules for a longstanding AT&T Wireless and U-verse customer. Do what your conscience will let you.
"I'm in your exact situation, Joe," Jon Deutsch comments. He continues:
Bought my GS2 on Oct 4, I think. So the GS2LTE will be after my 30-day return fee. I'm really torn (as you are), but what makes me less torn is that 4.5-inch screen -- and it's going to be thicker and heavier. And what we do not know at this point in time are many variables:

Will the LTE model have as good battery life? (i.e., with LTE on all day, will it even be worth it?)
Will the LTE model have NFC (so far, it's a no)? This means that the 'beam' feature in ICS will not work.
Will the LTE model perform as well? This is a serious concern. That Exonys CPU is only 1/2 the story. The quad-core MALI GPU makes my (and your) GS2 flow like melted butter. What if the new chipset doesn't perform as well?

So, with that, I'm betting that I sit tight because Philly also isn't on the immediate list for LTE... and to your point, who knows if the performance will even be there this early in the game. Verizon has proven they can do it... but in my mind, AT&T hasn't yet. Remember, a 2-year contract is really only 18 months with AT&T in terms of getting discounted hardware.
Deutsch's questions, which I had already asked and answered before reading his comment, are why I likely won't buy Galaxy S II Skyrocket today. Battery life is the kicker for me. I'm completely satisfied with Galaxy S2 battery life, which is surprisingly much better than what I had with iPhone 4 -- and that was exceptional. I typically recharge every other day, 24-40 hours with heavy usage. My own BetaNews story about iPhone 4/4S design problems -- signal strength for the older model and battery-life with the newer -- got me to reconsider my smartphone priorities. Skyrocket battery life, with larger display and LTE radio, is an uncertainty -- while I'm completely satisfied with what I've got.
I've handled both the Sprint and T-Mobile Galaxy S II variants, which like Skyrocket and Vivid have 4.5-inch screens. The 4.3-inch S2 from AT&T is comfortable in part because of the thinness, which appeals more to me. Then there is Skyrocket's 1.5GHz dual-core Qualcomm processor, which in some early benchmarks performs considerably less well than the Exynos 1.2GHz processor in the S2. I haven't looked at reviews today, but read one last night at ChipChick (guys, it's okay to read this site -- these women know their tech). Helena Stone writes:
The Galaxy S II blew through Quadrant's benchmarks with a score of 3078, so it was a bit of a surprise to discover that the Skyrocket earned a score of 2518 in Quadrant. Don't get us wrong, the Skyrocket feels just as responsive and fluid as the S II as far as everyday performance is concerned, but we were surprised that the benchmarks for the 1.2GHz processor in the S II are so significantly greater than the benchmarks on the Skyrocket. This really isn't a deal breaker, but more of a peculiarity.
Like Deutsch, I don't live in an area with LTE service. Considering how satisfied I am with the Galaxy S II, particularly battery life, I'm suddenly reluctant to take the risk. I will truck down to the AT&T store for a look at Skyrocket, but my thinking is not to trade up.
Are You and AT&T Ready for LTE?
What will you do? Lots more of you have something to say about that. First some quick specs:
HTC Vivid: 1.2GHz Qualcomm APQ 8060 dual-core processor; 4.5-inch qHD
super LCD display with 960 x 540 resolution; capacitive touchscreen; LTE/HSPA+/UMTS/GSM/GPRS/EDGE; 1GB RAM; 16GB storage (expandable to 32GB with microSD card; 8-megapixel camera; 1080p video capture; Bluetooth 3.0; WiFi "N"; 1620mAh battery and Android 2.3.4. Dimensions: 5.07" x 2.64" x .44". Price with two-year contract: $199.99.
Samsung Galaxy S II Skyrocket: 1.5GHz dual-core processor; 4.5 Super AMOLED Plus display with 800 x 480 resolution; capacitive touchscreen; LTE/HSPA+/UMTS/GSM/GPRS/EDGE; 1GB RAM; 16GB storage (expandable to 32GB with microSD card; 8-megapixel camera; 1080p video capture; Bluetooth 3.0; WiFi "N"; Near-Field Communications (NFC); 1850mAh battery and Android 2.3.5. Dimensions: 5.15" x 2.75" x 0.37". Price with two-year contract: $249.99. (There is some confusion about NFC, which may be included but disabled.)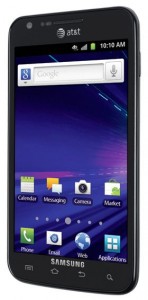 Commenter RogerOfDoger makes a good point. Should the future investment be about software or hardware: "It will be interesting to see how quickly the 'investment for the future' is updated for Android 4.0, and how long it remains an 'investment in the past' with Android 2.3.5". I could grumble the same about the Galaxy S2.
Commenter JL lives in a "LTE city, but LTE is not that important to me as I really just see it as a battery hog until the second gen chips come out. So, that being said, I am looking in to importing a Droid Razr GSM model from Canada, or getting the Galaxy Nexus. If this ends up being too expensive, I might opt for the HTC Vivid and just deal with the 4.5-inch screen, but my #1 concern is 960x540 or 720p resolution". If resolution matters to you, too, Vivid beats Skyrocket there.
James Sarino:
Yes, I'd be interested in this phone [Skyrocket], and I'm glad I waited. :-). I have an unlocked Nexus One now, and it's getting a bit long on the tooth. The only things that will sway me away from the Skyrocket are if the S II HD LTE makes it to the US (and AT&T), and of course there's the Galaxy Nexus, which can run on both HSPA+ and LTE, and it too makes it to AT&T (confirmed to Verizon so far), so I hope to hear about where those phones will go sooner rather than later. But I agree with you about investing in the future and getting an LTE-enabled phone early.
Samsung announced the Galaxy S II HD LTE for the South Korean market in late September. Display size is 4.65 inches -- same as Galaxy Nexus -- but with better camera (8 megapixels, not 5MP).
"I have the HTC Inspire and I'm thinking I'll probably just stick with it", writes Joe Dodd. "I actually got it a week ago and a couple of days later found out about the HTC Vivid. Shucks!...I won't be getting it because 4G isn't even offered in my area...Consider the acronym itself: 'long term evolution'. Doesn't it make more sense to wait for it to 'evolve' a little more before making an investment in one of the first pieces of AT&T technology to use it?
Bruce Burns offers by far the longest comment, and it's worth reading the whole thing:
Hey Joe! I was almost in the same boat as you. I bought the GSII on Oct 7. However, I must give AT&T credit. The AT&T store near me never stocked the GSII because they knew of the Skyrocket's release. I had to buy the GSII @ Radio Shack, which was not a consumer friendly event -- neither was taking them back (bought 2 phones). After I bought the phones an AT&T rep at the store told me about the some-time-in-the-future release of the LTE version. My thought at the time was it could be 6 months so I kept the phones. When they announced on Halloween about the Nov 6 release, I was shocked.
A few of his reasons for going with S2 Skyrocket: "The GSII was the most awesome phone I've ever seen or had -- the Skyrocket is larger and faster processor-wise and then there is LTE". He lives in one of the nine markets where LTE is available. They are: Atlanta, Athens, Ga., Baltimore, Boston, Chicago, Dallas-Fort Worth, Houston, San Antonio and Washington, DC.
I'll end with another question: Did you buy either the HTC Vivid or Samsung Galaxy S II Skyrocket today?