Opera 11.6 goes beta -- get it now!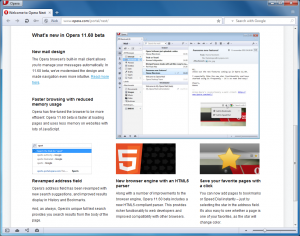 Opera has released the latest beta version of its popular web browser, Opera 11.60. Code-named "Tunny", the new release makes some significant changes, both visible and in the browser core. And these start with a revamped address bar.
Type a keyword, for instance, and Opera won't only search your bookmarks and history. It'll now also offer search suggestions, so typing "Windows" will provide links for Windows Update, Windows Live, Windows 8, and so on. And once you've reached a page, a new star icon allows you to bookmark it at a click. These aren't exactly the most original ideas, then, but they're worthwhile additions that will speed up your browsing just a little.
Opera's integrated mail client sees more significant changes, with new default mail views, groupings, icons and toolbars, all of which combine to make your Inbox easier to view, manage and navigate. At least, that's the theory, though if you disagree then the simplified Settings dialog now makes it even more straightforward to tweak the client's look and feel to suit your needs.
Opera's always been one of the fastest browsers around, and the good news is that Tunny aims to improve on this even further: it's faster at loading pages, and now uses even less RAM on JavaScript-heavy sites.
And the program also introduces a new HTML5-compliant parser, providing new HTML5 functionality and improved compatibility.
Of course Tunny is still a beta, and you need to treat it with caution: there's no telling what bugs it may contain, especially as the changes are so widespread this time. It works well for us, though, so if your system is backed up and you're willing to take the risk, then Opera 11.60 downloads are available now.