Syncplicity launches new cloud file sync and management app for Android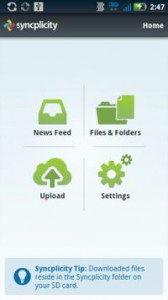 There is no shortage of cloud file sharing and sync services today, and most of them focus on mobile accessibility: Dropbox with Dropsync, Box.net, SugarSync, YouSendIt…there are tons of options.
As a user, strong competition among service providers is a wonderful thing, so it's a great time to be a user of cloud file management systems.
Today, Cloud-based solutions company Syncplicity launched the Android version of its Syncplicity app for file sharing, syncing, backup, and accessibility, further broadening the competitive playing field for cloud sync for Android devices.
Like some of its competitors, Syncplicity is aimed at both business users and individuals, and offers both free and subscription tiers for its users.
For personal users, the free tier offers instant file sync for up to 2 computers and mobile devices, and comes with 2 GB of free storage, with upgrade options available. It automatically backs up content with versioning and instant restore, and includes military-grade encryption and security.
The subscription tier for business users costs $45 per month and includes unlimited users, storage and file sizes, and includes instant file syncing across desktops, laptops, mobile devices, Google Docs, SalesForce, SharePoint and file servers.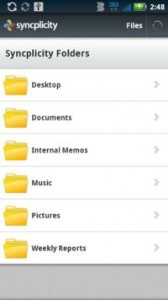 Security is one of the major selling points for Syncplicity, and all cached files are encrypted with enterprise-grade AES-256 encryption. But that's only the beginning of it, the app also lets users or IT administrators remotely wipe downloaded data and credentials from lost or stolen mobile devices. In Syncplicity Business Edition, organizational controls, permissions and policies for information security and corporate data compliance are extended down to the local device level.
Syncplicity for Android is available in the Android Market today and works on Android 2.X devices.