RIM begins smartphone exit with cross-platform device management software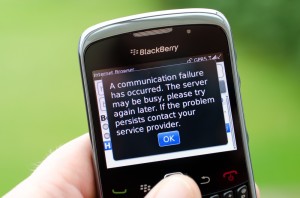 Research in Motion is accepting to the realities of the smartphone industry, saying Tuesday its new Mobile Fusion device management software will work with iOS and Android devices in addition to BlackBerry smartphones. The announcement suggests RIM might be ready to concede the market to its bigger rivals.
The Canadian phone manufacturer has watched its share of smartphones plummet from a third of the market this time last year to 18 percent in the most recent quarter, due to the lack of any blockbuster device release. Most of these users shifted to Android, which has more than doubled its market share over the same period.
Mobile Fusion allows IT administrators to manage a company's smartphone deployment. Security and configuration can be set across multiple devices, and the administrator can remotely lock or wipe devices in the event of loss or theft.
"BlackBerry Mobile Fusion brings together our industry-leading BlackBerry Enterprise Server technology for BlackBerry devices with mobile device management capabilities for iOS and Android devices, all managed from one web-based console", enterprise product chief Alan Panezic says.
RIM declined to offer pricing specifics but has said it will be competitive with similar solutions from its competitors. Mobile Fusion is currently in limited testing, and the company will begin accepting applications for a closed beta to begin in January. A general release is expected in March.
The company's newfound love for its competitors stems from its acquisition of Ubitexx in May. The German company already had a multi-platform device management solution, and RIM folded Ubitexx's technologies into Mobile Fusion.
Whether or not it's a solution that will stop the bleeding is uncertain. It may be too little, too late -- RIM enters a crowded market with nothing but its name to sell itself to potential customers.
Photo Credit: sgm/Shutterstock