As many as 55 Million users abandoned Internet Explorer in December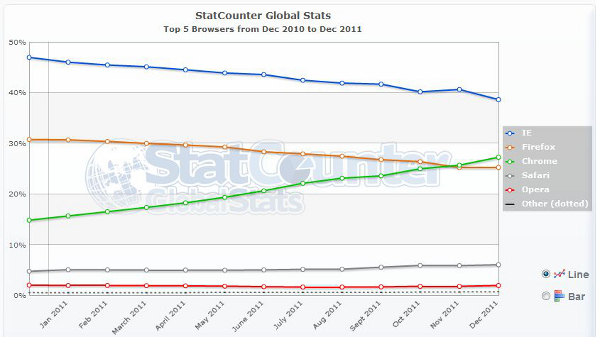 Last Friday, Microsoft published its year-end Internet Explorer statistics based on Net Applications usage tallies, and concluded that Internet Explorer 9 would have claim a 25 percent share of the Windows 7 browser market. This trend was illustrated by IE8 users upgrading to the new browser.
However, the final statistics from StatCounter and NetApplications for the month of December show that not all IE8 users are upgrading, and Internet Explorer (all versions) continues to drop as Google's Chrome browser continues to rise in large jumps across the world.
StatCounter's global statistics suggest that it's not just Chrome that users are switching to. Their statistics show all of the top five browsers except Internet Explorer were up incrementally in December.
Chrome enjoyed the largest increase, going from 25.69 percent to 27.27 percent. Firefox went up just a hair, from 25.23 percent to 25.27 percent. Apple's Safari went up from 5.92 percent in November to 6.08 percent, and Opera went from 1.82 percent to 1.98 percent. Internet Explorer, meanwhile, dropped from 40.63 percent to 38.65 percent.
Internet Explorer experienced a 1.98 percent drop, which is equal to Opera's total share of the market.
In other words, Internet Explorer lost as many users in December as Opera has altogether. Opera estimates it has over 220 million users worldwide, but this figure includes the desktop versions as well as popular mobile and mini versions. In April, Opera Turbo product analyst Lawrence Eng estimated that there were approximately 54 million total users of Opera Desktop.
It should be noted that StatCounter isn't a scientific representation of the entire Web, but it does base its market share statistics on very large samples. Its global monthly sample set includes more than 15 billion hits on over 3 million of StatCounter's member sites.


For the month of December, NetApplications showed that Internet Explorer, Firefox, and Safari all lost market share while Chrome and Opera both gained. Internet Explorer went from 52.64 percent to 51.87 (.77 down); Firefox went from 22.14 to 21.83 percent (.31 down); Chrome went from 18.18 percent to 19.11 percent (.93 up); Safari went from 5 percent to 4.97 percent (.03 down); and Opera went from 1.55 percent to 1.66 percent (up .11).
Though the results are slightly different from StatCounter, the increase of Chrome use and decrease of Internet Explorer use was the same in both.
Photo: InnerVisionArt/Shutterstock