Microsoft's three-screen strategy is a failure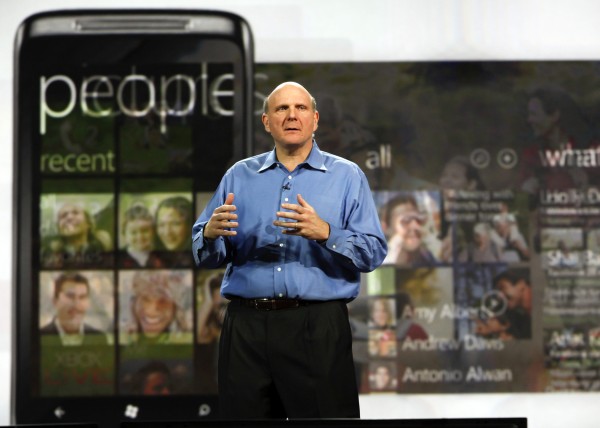 One thing will be certain when the dust settles on Consumer Electronics Show 2012: Just how meaningless and pitiful is Microsoft's three-screen strategy. Good riddance, too, as Microsoft pulls out of CES following this year's event. After more than a decade working this three-screen thing -- PC, phone and TV -- Microsoft has taken leadership in the most bizarre way: Showing competitors what they shouldn't do.
The indictment against Microsoft's three-screen strategy started over the weekend, from Lenovo and Vizio, and will brutally continue over the next four days, headlined by Samsung, among others.
Three screens was supposed to protect -- hell, save -- the Windows PC from becoming irrelevant as Microsoft pushed into the living room and mobile markets. At CES, it's tradition, where Microsoft's CEO -- first Bill Gates and now Steve Ballmer -- uses the keynote stage to tout the three-screens effort. But the company floundered execution on all fronts, starting with purchase of Web TV 15 years ago, and that failed to muster. About the only thing Microsoft has done right in the living room is Xbox.
Meanwhile it peed away mobile phone OS market share. The smartphone's future in 2005, Microsoft's mobile OS has insignificant market share today, crushed by Android and iOS, which combined have 65 percent or greater share in most markets. Windows Phone: Less than 5 percent.
No Unified Platform
Microsoft's business is about platforms and creating ecosystems around them from which third-parties profit. Each screen should have been a platform connected by cloud services. Microsoft has the pieces to do this, but hasn't put them together meaningfully. No one's waiting around for Microsoft. Over the weekend, Vizio announced its plans to enter the PC market, while Lenovo moves into smartphones (outside of China, anyway) and televisions.
As my colleague Ed Oswald observed earlier today: "Shouldn't that be the other way around?" Vizio makes TVs, not PCs. Lenovo is the world's second-largest PC vendor. These companies see opportunity among the three screens. Lenovo is a huge Microsoft customer. Wouldn't the OEM consider adopting a Microsoft three-screen platform, if one existed? Instead, which operating system does Lenovo use for its new tablets and TVs -- Android.
Samsung has long pushed three screens, to Microsoft's determent. The South Korean electronics giant is having huge success selling smartphones, the majority running Android. Samsung devices connect, such as Androids remote-controlling TVs and even digital cameras. Now Samsung will support Google TV, too. Microsoft should consider itself lucky Google hasn't unified Android and Chrome OS. Some of the new laptops announced during CES 2012 might run a Google OS instead of Windows. The CE and PC markets are looking for a unified OS for three screens. Microsoft has failed to deliver it.
No Cloud in the Sky
Windows Live is dead to the screens. If not, then why are Microsoft OEM customers and some consumer electronics manufacturers announcing their own connected cloud services? Acer and Lenovo both did so yesterday -- well, Lenovo made its stated strategy real. AcerCloud will connect the company's products, providing media sync capabilities. The facility will first be available on PCs.
Lenovo goes further, by touting a cloud supported, four-screen strategy, which includes tablets. "Our Personal Cloud vision integrates all devices, from tablets to TVs, for a comprehensive mobile Internet experience anytime, anywhere", Liu Jun, senior president of Lenovo's Mobile Internet and Digital Home business group, says.
Then there is Apple, which already has a successful three-screen effort around iOS, supported by iCloud. According to rumors, Apple is working on a TV set. It's really icing on the cake to a unified multi-screen platform that makes content producers and software developers boatloads of money. That's here right now.
What has Microsoft got? Promises. Every CES it's promises, and more promises. There will be new promises around Windows 8 and Xbox Kinect during this year's show. But one screen, Windows Phone, is near death, and the cloud syncing them altogether is in shambles. Hell, AcerCloud will offer document sync. What does that tell you?
In December 2009, I posted "Microsoft isn't losing its consumer edge, it was game over long ago" in response to Mark Anderson's assertion "except for gaming, it is game over for [Microsoft] in consumer". I identified, among other things a "two-fold problem:
Microsoft has abandoned most consumer products and focused its cloud strategy (e.g., Azure and Online Services) on businesses.
Microsoft seeks to preserve its existing applications stack, while failing to engage the newer one around the mobile device and cloud.
Stated differently, Microsoft is too focused on seeking to preserve existing revenue streams when creating newer ones should be the priority".
More than two years later, competing three-screens and cloud are popping up at CES 2012. You're out of time, Microsoft. It's game over.