Windows Phone beats iPhone to 4G LTE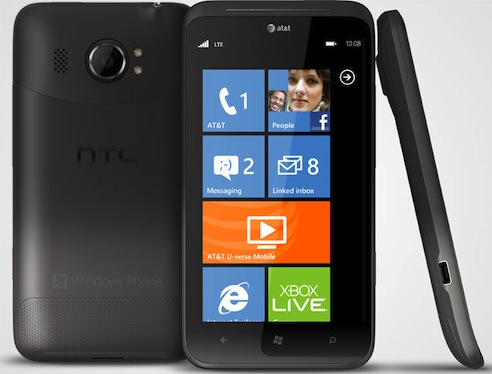 Currently there are 11 4G LTE phones -- two from AT&T and 9 from Verizon -- available from major US Carriers, and they're all Androids. Even more are coming, some this month, and again they're all Androids. There is no LTE iPhone and until today's HTC Titan II announcement, nothing running a Microsoft operating system. Finally, prospective Windows Phone buyers can get super-fast cellular data. iPhone users are out of luck. Well, maybe. HTC says the LTE Windows Phone is coming to AT&T "in the coming months". Who knows, iPhone 5 LTE could come sooner.
Like its predecessor, Titan II will be available from AT&T, which is good for HTC, Microsoft and Windows Phone. The brawny 4.7-inch-display smartphone will only compete with two other LTE handsets there -- HTC Vivid and Samsung Galaxy S II Skyrocket. Better to be one of three at AT&T than one of 10+ at Verizon. That's assuming AT&T adds no other LTE smarphones "in the coming months", before Titan II goes on sale. Last week I posted the "7 things I really don't want to see at CES". Among them: Products announced that don't ship for many months later.
That's too bad, because Titan II packs some other exciting new features, such as a 16-megapixel rear-facing camera with dual-LED flash and physical shutter button. But strangely, the smartphone only captures 720p video, an oddity when 1080p is standard for smartphones of this class and Microsoft bought Skype last year. Shouldn't video be a much bigger priority?
Other features include 1.5GHz Snapdragon S2 processor and 1730 mAh battery. That's a single-core processor in a dual- and quad-core world, by the way.
"HTC's history of innovation in 4G technology includes delivering the first 4G-powered devices to each major carrier in the U.S., so it is exciting today to continue that leadership with our first 4G LTE Windows Phone, the HTC TITAN II", CEO Peter Chou says.
Would you buy Titan II?