New Samsung Chromebook is a cheap, plastic MacBook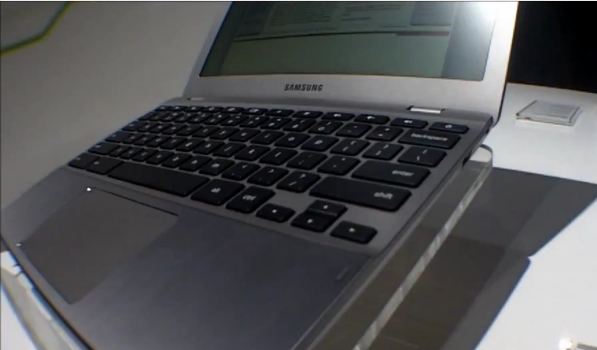 If you missed the new Series 5 Chromebook at Consumer Electronics Show 2012, there's a reason. Samsung practically hid the thing, during an event of otherwise big, big announcements from the South Korean electronics giant. Disappointment is my reaction to the new offering, which, regrettably doesn't temp me back to using a Chromebook.
I asked my colleague Tim Conneally, who got up close to the new Chromebook in this video, for his reaction. "My first impression: it looks like a plastic MacBook". Ah, yeah, hasn't Samsung been having problems with Apple, fending off accusations of imitating products. Judge for yourself, from the photo and link to Tim's video. Doesn't the new Series 5 Chromebook resemble MacBook but donned in plastic?
But there's something more important than missing metal. My bigger concern is performance, to which Tim dismally responded: "The difference in handling is imperceptible". The specs are largely unchanged from the original. System memory is still 2GB and the processor is less crappy. Not good, just not as bad. Samsung is unleashing an unworthy successor and one that makes Chromebook less appealing than the original -- seeing as v1 isn't enough and the new one isn't much more than a new MacBook-like enclosure and speedier processor. Specs are otherwise the same, or seem to be based on the little info released by Samsung.
A Real Under-performer
For two months last summer, I used a Samsung Series 5 Chromebook as my primary PC in the first weeks and as my only one later on. I found the overall cloud experience to be refreshing, no liberating, but Chromebook grated on me the longer I used it. The problem: Performance. On the software side, Google continually updates Chrome OS, which got better with each of the many updates. But the hardware is steadfast. At the least, Chromebook needs 4GB of memory. But really the processor -- and, more importantly, the graphics chip -- simply aren't good enough.
Living in the cloud doesn't free Chromebook from daily computing demands. If anything there are more, because so much activity is conducted online and so many services require Adobe Flash, which still seems wonky to me on Chrome OS -- that's without the demands placed on CPU, GPU and Net bandwidth.
In early October, when writing about giving up Chromebook, I didn't fuss much over what was for me sluggish performance. I'm a power user and, presumably, atypical of the type of person most likely to use a system running Chrome OS. But after getting back to a real computer, my feelings about performance lag are more pronounced.
Currently, I'm using the Lenovo ThinkPad T420s with: 2.5GHz Intel Core i5 processor (with 3MB L3 cache); 14-inch matte screen (with 1600 x 900 resolution); 160GB Intel sold-state drive; 4GB of DDR3 memory (1333MHz); DVD burner; WebCam; Ethernet; WiFi N, memory card reader; 3 USB ports, one each HDMI and VGA port; and Windows 7 Ultimate 64 bit. The original Chromebook -- and, sadly its successor -- isn't in the same league. Chrome OS changed my computing habits, so I still largely do everything in the browser, but there's real performance on ThinkPad T420s and none of the waiting common with the Samsung Series 5.
My Chromebook config: 12.1-inch LED display with 1280 x 800 resolution and 16:10 aspect ratio; 1.66GHz Intel Atom N570 processor; 2GB DDR3 memory (not expandable); 16GB solid-state storage; integrated NM10 graphics; ALC272 integrated audio; stereo speakers (which in my tests deliver surprisingly rich sound for the class of machine); internal microphone; 1-megapixel webcam; WiFi N; Verizon 3G (on higher-end model); headphone/Mic jack; two USB ports; 4-in-1 memory card reader (SD / SDHC / SDXC / MMC); and 6-cell battery (with stated life of 8.5 hours).
Specs are sketchy, but Samsung claims the new Chromebook has 3X performance from the dual-core Celeron processor, which granted is a step up from the single-core Atom processor on v1. But Tim's assessment isn't encouraging, since he has Samsung's original Chromebook and has experience enough for spot comparison.
There's no Samsung press release I could find about the new Chromebook, nor does Samsung's Flickr account -- loaded with photos of everything else. There's plenty on Samsung's Series 9 ultrabook, which design and features are jaw-dropping. As for Series 5 Chromebook, it's a plastic MacBook with few of the benefits.