iPhone represents more than half of Verizon smartphone sales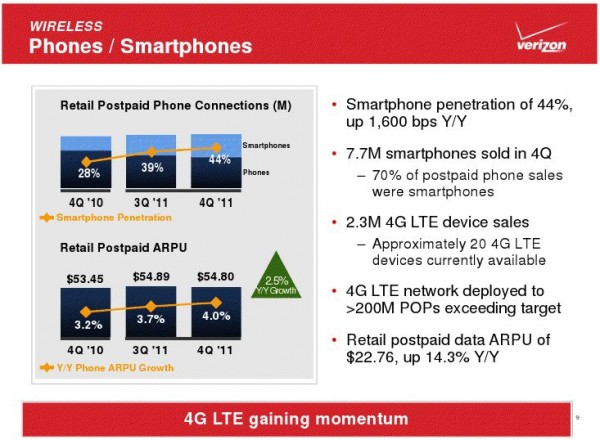 This morning before the opening bell, Verizon Wireless announced fourth-quarter results. The carrier sold 7.7 million smartphones. Earlier this month, the nation's largest carrier disclosed 4.2 million iPhone activations during the same time period. Divide it up, and iPhone accounted for 54.5 percent of Verizon smartphone sales. (Update: Revised 4.3 million number released today puts it at 55.8 percent.) By comparison, Verizon sold 2.3 million 4G LTE devices, which includes mobile hotspots and tablets. At best, LTE devices accounted for 30 percent of smartphone sales. However, since that number includes other devices, iPhone outsold LTE smartphones by about 2 to 1.
In September I asked: "What if there is no iPhone 5 LTE?", before Apple announced 4S instead. Today, Verizon answered that question. As of Monday, the nation's largest 4G network reached 200 million in 195 US markets. Verizon currently offers 20 LTE devices, 10 of them smartphones -- 11, if counting 16GB and 32GB Droid Razrs. How much does LTE matter? Clearly not enough.
Verizon released four new LTE smartphones during fourth quarter -- Google Galaxy Nexus, HTC Rezound, Motorola Droid Razr and Samsung Stratosphere. Galaxy Nexus and Droid Razr are considered best-of-class Androids. Three new LTE models are coming within weeks.
Forty-four percent of post-paid customers had smartphones at end of fourth quarter, up from 39 percent three months earlier. But, again, iPhone contributed more to those gains than all other smartphones combined. Smartphones accounted for 70 percent of post-paid sales.
Verizon released its earnings report ahead of Apple's, which is expected after market close today. Some analysts predict that Apple sold as many as 35 million iPhones, a stunning number, during fourth quarter. If so, Verizon accounted for 12 percent of them. Remember: The carrier didn't offer iPhone a year ago. Apple also added Sprint and some regional carriers during the quarter.
For all 2011, Verizon activated 10.8 million iPhones and 15 million Androids. But the carrier didn't offer iPhone for all the year, and the revealing surge was fourth quarter, when 4S shipped and the price for 4 dropped to $99.