Amazon cloud services see dramatic growth in 2011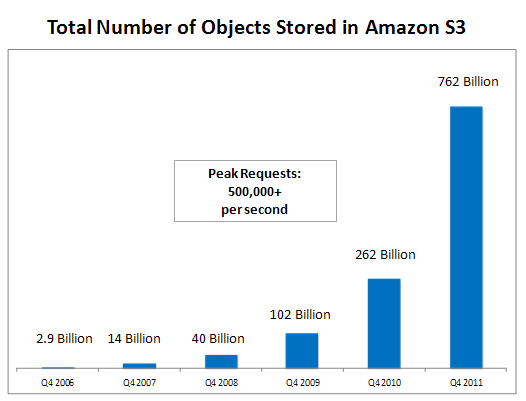 Usage of Amazon's cloud services skyrocketed in 2011, with the company reporting that its cloud storage service Amazon S3 played host to 762 million objects as of the fourth quarter of 2011. This was up by 500 million objects over last year, year-over-year growth of 192 percent and the biggest expansion in the service's five year history.
Amazon credits the large jump in making it easier for users to get data into the system via a host of new features introduced over the past year. It also says the jump in cloud usage requires manpower, and it is hiring for software engineers, product managers, and other management postions for the S3 team.
Meanwhile, 2012 is expected to be a big year for cloud computing, with Forrester analyst Holger Kisker predicting the sector to generate $61 billion in revenues by the end of this year. Gartner is even more bullish, expecting spending on public cloud services to reach $89 billion this year, and $177 billion by 2015.