Avid Studio for iPad debuts, but, hurry, the low price won't last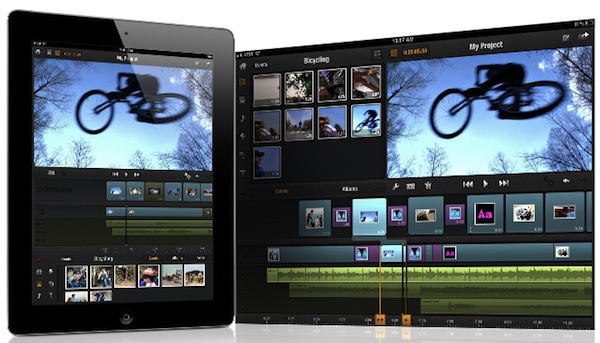 Move over, iMovie, some serious competition moved on to iPad, today. Avid Studio for iPad is now available -- $4.99 for a limited time. Avid was the big name in filmmaking, long before Apple stormed the market with its pro and amateur products. Apple reigns king on iPad and the Mac. Can Avid provide some needed tablet competition?
By the specs and feature list, Avid Studio for iPad appeals. The app can directly capture video, use multiple content sources on the tablet (e.g., audio, photos and video), generate motion titles and graphics, precisely trim content, create picture-in-picture effects and much more. That's all while taking advantage of iPad's touchscreen. For people using Avid's PC software, there's an app exporter available, too.
"More and more users are relying on mobile devices for media content creation, viewing and sharing, and we're proud to deliver a feature-rich new app that takes powerful Avid technology and adapts it specifically for the iPad", Tanguy Leborgne, Avid vice president, says. "Editing enthusiasts can now use a mobile application that has our industry-leading video editing technology built into it—with the interactive capabilities of iOS—to help them make incredible movies at home or on the go".
How incredible? That answer depends largely on your success using the software. I don't have an iPad and so can't test the app, but early Avid Studio for iPad buyers express remorse about crashes (their reviews are available on the App Store product page on the web but, strangely, not yet in iTunes).
Picnicmetoo writes:
Luckily my plans are to buy iPad 3. In the meantime, with a 64GB WiFi iPad 1 with 40-percent free it crashes repeatedly and it would not render even the small size of a small test video. I suspect the iPad 1 is just not capable of dealing with the video. I did a soft reset but that did not help--its just not a good choice for iPad 1. What I was able to do with it in just a quick test looked good, easy, and I look forward to using it with my iPad 3.

I had to give it a one star based on not being able to use with Ipad 1 and not being warned in the specs. I imagine I will be able to give it a 4 or 5 star with the iPad 3.
Salah Baker also gives the app one star: "So far it does crash quiet a bit doing titles and rendering. Needs to watch memory consumption on iPad 1. Good thing iPad 3 is coming out. Not iPad 1 friendly so far".
Strangely, Avid's system requirements list both iPad models as being acceptable. Granted, iPad 2 has a dual-core processor.
My question: Have you downloaded and used Avid Studio for iPad? Which iPad? How is your user experience?