So much for iPhone catching Android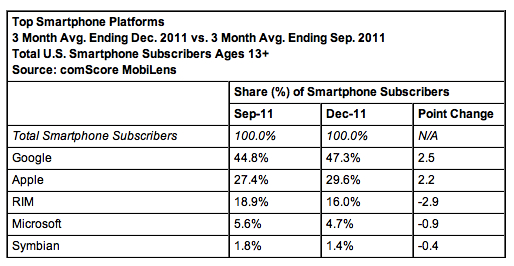 Just weeks ago the Apple Fanclub of bloggers and journalists giddily posted about how iPhone had reversed Androids' gains. But new data from comScore shows that, in the United States at least, Android is doing just fine, despite iPhone's remarkable fourth-quarter sales surge (more than 37 million units).
As measured by smartphone OS among cellular subscribers 13 and older, Android share grew to 47.3 percent at the end of December from 44.8 percent three months earlier. During the same time period, iPhone/iOS rose 2.2 points to 29.6 percent share. More broadly, for all handsets, Apple was the only manufacturer to gain share during fourth quarter -- up 2.2 points to 12.4 percent, or twice free-falling Research in Motion. Samsung firmly held its lead, 25.3 percent, which is the same as end of September.
At the end of December, 234 million people owned cell phones -- a number that hasn't changed in more than a year. However, the number who own smartphones -- 97.9 million, or 40 percent -- continues to rise.
But the gains aren't evenly distributed. While Android and iPhone/iOS benefit from growing smartphone adoption, BlackBerry and Windows Mobile/Phone continue to lose share. Windows Phone fell nearly 1 point during the three months to 4.7 percent share. That despite a big fourth quarter launch of Windows Phone 7.5.
comScore's data is among the most revealing. The analyst firm surveys 30,000 cellular subscribers, meaning the sample size is large and represents actual install base. Other analyst firms typically measure sales to customers, buying intentions or shipments into the channel. Based on shipments, earlier this week IDC put Apple as No. 3 for all handsets, not just smartphones, for 2011. Sales or install base more accurately reflects meaningful trends.