Will you buy Nokia Lumia 900 Windows Phone? [poll]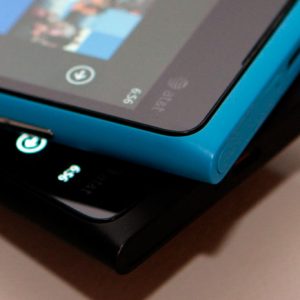 Today, Microsoft Store started taking pre-orders for the Lumia 900, Nokia's flagship Windows Phone. There's a $25 reservere for the handset, which, according to my local shop will be available some time in March. Microsoft Store had no official launch date to give.
My question: Will you buy the Lumia 900? Nobody is saying how much the smartphone will cost. That $25 is blind faith the final price will be reasonable enough. Who knows? Given Microsoft's and its partners' marketing commitment, the faithful might see a serious discount for their leap to pre-order. Will you be among them? You can answer the question(s) and give your reasons why or why not in comments below and answer the poll below. Lumia 900 will be available in the United States on AT&T.
What will you get for your 25 bucks plus additional unnamed amount: 1.4GHz Qualcomm APQ8055 processor; 4.3-inch AMOLED display (yes, it's Corning Gorilla Glass), with 800 x 480 resolution; 512MB RAM; 16GB storage: 8-megapixel rear-facing camera with Carl Zeiss lens and dual-LED flash; 1MP front-facing camera; 720p video capture from rear camera and VGA from front camera; GSM 850/900/1800/1900 radio; WCDMA 850/900/1900/2100 radio; 4G LTE; Bluetooth 2.1+EDR; Stereo Bluetooth; WiFi; accelerometer; ambient and proximity sensors; gyroscope; 2 microphones; 1830 mAh battery; Internet Explorer 9 mobile; and Windows Phone 7.5 "Mango" Commercial Release 2.
Any device only needs as much hardware as necessary for your needs and to give operating system and applications ample performance. I say that in qualification before observing how much more is available on many Androids and even iPhone 4S. The Androids are bitchin': All LTE phones currently available from AT&T or Verizon have dual-core processors, more RAM and typically better screen resolution or video capture than Nokia Lumia 900. What they don't have is Windows Phone 7.5 CR2.
A suggestion to Microsoft and Nokia: As part of your launch promotion kitty, put aside some money to pay the carrier subsidy. In other words, make every person who wants Lumia 900 eligible to get one, regardless of where they are in their contract, during, say, the first 30 days of availability. Hey, it's just a suggestion.
Is this the Windows Phone you have been waiting for? Scratch that. Is this the smartphone you've been waiting for?