Amid its fastest growth ever, Amazon slashes prices on S3 cloud storage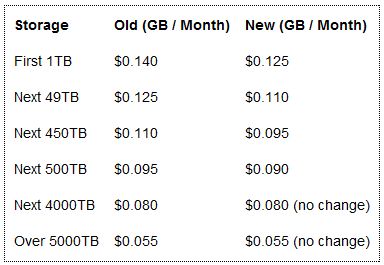 Amazon on Tuesday reduced the price of its Simple Storage Service (S3) cloud-based storage platform by between 12 and 13.5 percent for U.S. customers. With the reduction, the retailer-turned-cloud-services-provider is attempting to draw the attention of businesses utilizing on-premises storage solutions with a more affordable and scalable cloud platform.
As a bonus, current customers also get a nice reduction in their monthly bill. It applies to both private enterprise and users of AWS GovCloud.
In the first weeks of 2012, Amazon unveiled a new solution in beta called AWS Storage Gateway, which connects on-premises software applications with cloud storage for backup and disaster recovery. Then, just one week ago, Amazon said usage of S3 had grown an impressive 192 percent between 2010 and 2011, the fastest it has ever grown since launching in 2006.