iPhone saves smartphone market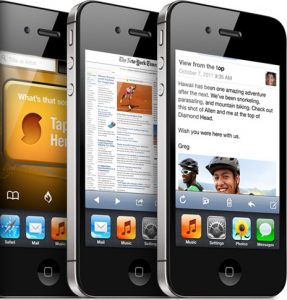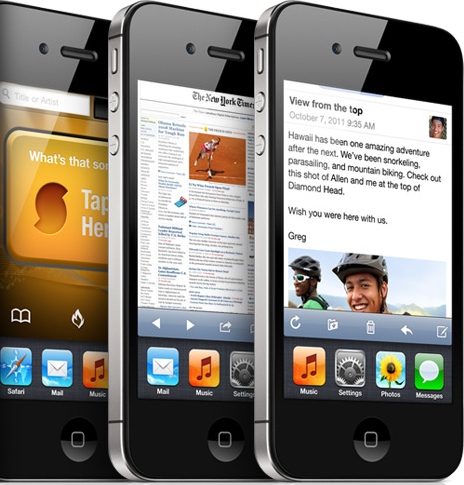 "Smartphone volumes during the quarter rose due to record sales of Apple iPhones". That's a helluva statement -- from Gartner's press release on Q4 2011 handset sales today. Emphasis on sales, which is what the analyst firm measures, not shipments into the channel like its competitors. One hundred-forty nine million smartphones sold globally during the quarter, up 47.3 percent year over year, 35.46 million from Apple.
Last month, Apple claimed 37.04 million iPhone sales, which, of course, really means shipments. Apple's stunning fourth quarter raised its ranking. The Cupertino, Calif.-based company passed LG to take third place in overall handset sales for all 2011 -- not just smartphones -- 5 percent to 4.9 percent share, respectively. In smartphones, Apple claimed top spot for the quarter and all 2011, with 23.8 percent and 19 percent market share, respectively. Apple sold 89.7 million handsets last year.
"Western Europe and North America led most of the smartphone growth for Apple during the fourth quarter of 2011", Roberta Cozza, Gartner principal research analyst, says. "In Western Europe the spike in iPhone sales in the fourth quarter saved the overall smartphone market after two consecutive quarters of slow sales".
Gartner expects strong first-quarter iPhone sales, but sequential decline, presuming pent-up demand for iPhone 4S is largely exhausted. Similarly, Gartner predicts that, as measured by smartphone operating system, iPhone will lose share over the next couple of quarters. This follows a Q4 surge that reversed Android's relentless share growth, with a sequential decline.
Still, Android is unstoppable, reaching 50.9 percent global smartphone share, up from 30.5 percent a year earlier. By comparison, second-ranked iOS share rose to 23.8 percent from 15.8 percent.
Samsung led Android's market share gains, selling 34 million smartphones. So I have to wonder about Gartner giving so much credit to iPhone.
Apple and Samsung Q4 smartphone sales surges contributed to another disastrous quarter for Windows Phone, which share dropped to a pathetic 1.9 percent from 3.4 percent a year earlier. This despite launch of the first Nokia Windows Phone during Q4; sales volumes declined with market share, just 2.6 million, which was less than Samsung's Bada.
More broadly, there were 476.5 million handsets sold globally during fourth quarter, up 5.4 percent year over year. For the year, sales topped 1.8 billion phones, up 11.1 percent.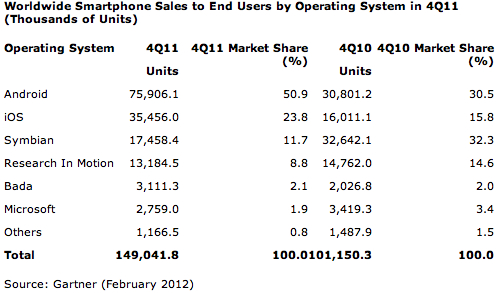 "Expectations for 2012 are for the overall market to grow by about 7 percent, while smartphone growth is expected to slow to around 39 percent", Annette Zimmermann, Gartner principal research analyst, says.