Apple debuts the 'all new' iPad with few surprises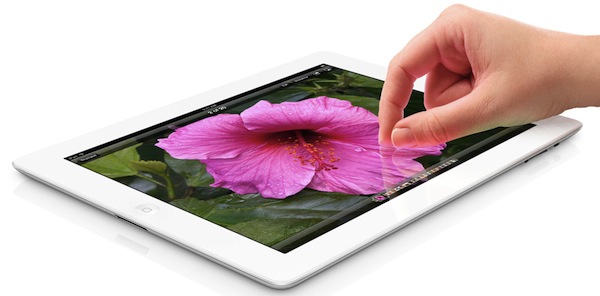 Apple on Wednesday debuted the new iPad, the third generation of the bestselling tablet with few surprises. While the name is missing the HD that everyone expected, it does include the Retina Display that has been rumored for months. Resolution comes in at 2048 x 1536, which is equivalent to 3.1 million pixels.
In demoing the new device, marketing chief Phil Schiller says it is the best display ever in a mobile device. In fact, it has a million more pixels than an 1080p high definition television set, which has a resolution of 1920 x 1080. At a distance of 15 inches or more, the human eye will not be able to distinguish separate pixels, the company says.
As a result of the resolution change, Apple has also optimized its stock apps for the better display, and will upscale current apps for the iPad in the same manner it did for the iPhone 4 when the Retina Display made its debut there.
Apple is also including the A5X processor, which it claims is twice as fast as Nvidia's Tegra 3 with four times the performance. A higher-quality rear-facing camera is also included: at five megapixels, it includes autofocus and white balance, essentially the same camera functions found on the iPhone 4S.
Not surprisingly, Apple is bringing other iPhone 4S features to the new iPad, including voice dictation. Where it will surpass the 4S is with 4G LTE, signaling the Cupertino, Calif. company's embrace of the net-generation technology and making LTE in the iPhone 5 a practical certainty.
The new iPad will support 21Mbps HSPA+ and 42Mbps DC-HSDPA, but its LTE capabilities will allow for theoretical speeds of up to 73Mbps. Both Verizon and AT&T models will support LTE, along with Canadian partners Rogers, Telus, and Bell. All iPads will be 3G-world ready however, meaning the device can roam on just about any network.
Schiller refers to the iPad as having the "most bands ever", but does not specify which ones. What remains to be seen is whether or not the device supports the AWS bands -- the only thing preventing iOS devices from operating fully on networks such as T-Mobile USA.
Pricing is as follows: 16GB for $499, 32GB is $599 and 64GB for $699. 4G models come in at $629, $729, and $829 respectively. All models will be available on March 16 in the US, Canada, UK, France, Germany, Switzerland, Japan, although pre-orders will begin today.