Why does iPad need a HD display?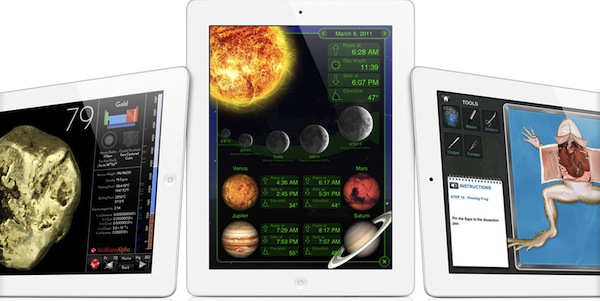 Tomorrow, Apple holds a media event where the next iPad is expected to launch. There are rumors aplenty, with the most consistent being higher-resolution display -- 2048 x 1536. That's mighty big for a small screen. While the Apple Fan Club banters around rumors like Depression Era kids kicking tin cans, I wonder about the fundamental question: Why does iPad need a high-res display?
It's not an idle question; 2048 x 1536 is unusually high resolution in computing. My Lenovo ThinkPad T420s display is 1600 x 900. Apple's 15.4-inch MacBook Pro is available with resolution up to 1680 x 1050. Then there is 1080p, which is 1920 x 1080. By many measures, iPad with greater-than HD resolution would be exceptional. That's nice to have, but do you really need it on a 9.7-inch screen? Someone does, and Apple is right to go after the market opportunity. For starters: Education, healthcare and publishing. Simply put: An iPad HD would be a transformative product.
Already, Apple has demonstrated the value of greater resolution -- and with it higher pixel density -- with iPhone 4 and 4S. While only 3.5 inch displays, resolution is 960 x 640 and 326 dpi. I recently took out iPhone 4S for a test drive after using Galaxy Nexus for several months. The Android handset has 1280 x 720 resolution (that's 720p) and 316 dpi on a 4.65-inch screen. I expected to find the iPhone 4S to feel puny compared to Galaxy Nexus, but that's not the case. I actually prefer the smaller screen with high resolution.
Size matters in portable devices, and there's much to be said for smaller. An iPad with 2048 x 1536 resolution would be transformative. Nothing available anywhere else could compete and likely wouldn't for at least 12 months, and likely longer. Current and announced Android tablets top out at 1280 x 800 resolution.
Solutions architect Chris Koerner has prepared a compelling chart comparing iPad's rumored resolution to that of other devices. As he observes, "you could watch a full resolution HD movie and still have some space for content. On a 9.7 inch screen!"
Like iPod nano
Think of the new iPad like iPod nano. Apple introduced the diminutive music player in September 2005 to replace the iPod mini, which was the standard copied by competitors. Just as their larger devices arrived for the holidays, Apple transformed the category with the tiny nano. iPod sales dramatically rose with launch of the mini in early 2004 and simply skyrocketed after the nano. A greater-than-HD iPad would similarly redefine the tablet category, likely leading to a huge spike in sales and expansion of the addressable market.
More importantly, iPad would be rightly positioned to further sap PC sales. Imagine the creative and consumption possibilities of greater-than-HD display on a connected, whether cellular or WiFi, portable device. Timing would put tremendous pressure on Microsoft as it preps Windows 8 and Windows on ARM for future tablet sales -- as in holiday 2012 the earliest.
For many people, iPad would offer the best computer screen they could afford. That's assuming Apple keeps current pricing, which is my expectation. iPad has reached that point, where Apple typically makes dramatic improvements for the same price. This is historical practice.
Assuming 2048 x 1536 iPad is reality, rumors about discounted iPad 2 make sense. Apple could easily offer an 8GB or 16GB iPad 2 alongside its successor without cannibalizing sales. The lower-cost model -- I anticipate $299 -- would open up sales to people who couldn't or wouldn't pay $499 or more for a tablet.
Something else: There also are persistent rumors Apple will launch new Apple TV tomorrow. That makes more sense if there is an iPad HD. Right now Apple TV tops out at 720p resolution. If the tablet goes HD, timing would be right for Apple TV's boost and iTunes Store content for both devices.
Marriage of Opportunity
That brings me to larger and potentially more lucrative market opportunities. The first two iPads are more consumption devices for consumers, despite content creators' and businesses' interest in them. An iPad HD would widely open up the tablet's utility for education, healthcare and publishing -- and every other vertical where portability and high resolution is a marriage of opportunity.
In January, Apple launched a major e-textbook initiative for one of its most important markets, education. High-resolution display offers all kinds of interactive, digital content options that make print as archaic as papyrus. E-textbooks are interesting at current iPads' 1024 x 768 resolution and compelling at 2048 x 1536, when mixing text, photos, video and live content.
Same reasoning applies to publishing and there trendsetters transcending print, and more importantly online (where valuable content is given away freely). It's time people actually paid for content again. iPad as an e-zine platform is much more compelling at 2048 x 1536 resolution.
Healthcare is full of possibilities. MRIs, X-rays and other diagnostic imaging demands clarity -- and there iPad's improved resolution and pixel density could be transformative.
How about HD gaming or the possibilities around typography? A portable, greater-than-HD display opens up the tablet to lots of uses and, for Apple and its partners, loads of new market opportunities.
All depends on the rumors being true.