Make Windows 8 work for you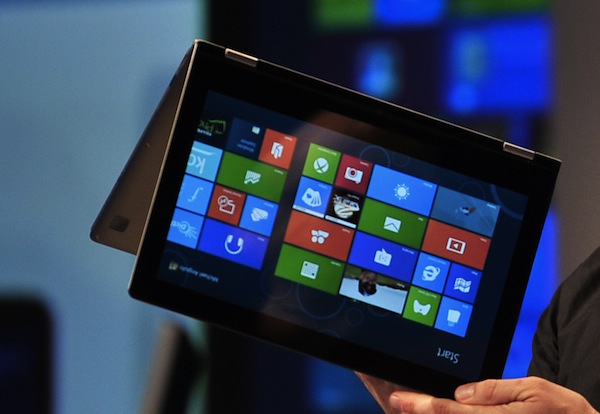 The next version of Windows is nearly here. If you missed it, you can now download and install a fully functional pre-release in the form of the Windows 8 Consumer Preview. We recommend following our recent guide to installing it in a virtual environment so your main system is left untouched, but once it's up and running, what then?
Whether you plan to use the Consumer Preview to familiarize yourself with the next version of Windows, or decide to migrate across now, you'll want to know how your apps are going to fare. Read on then, for our guide to picking the perfect software packages to help you with your exploration of the next generation of Windows.
Protect Your PC
Windows 8 ships with an updated version of Windows Defender that provides antivirus as well as anti-spyware protection. If you're looking for something more comprehensive and secure, though, install the brand new 60-day trial of Norton Internet Security 2012, which Symantec says is compatible with the Consumer Preview.
Migrate Settings, Files and Apps
If you're running the 64-bit version of Windows 8, and you're looking to migrate your settings, files, etc. from a 64-bit installation of Windows 7, then check out PCmover Windows 8 Beta Assistant. It'll simplify the process, let you choose exactly what to migrate and get you up and running quickly in Windows 8. Just a shame that it discriminates against 32-bit users.
Take Advantage of Touch
If you have a Microsoft keyboard or mouse, particularly a Touch mouse, then you should download and install Microsoft Device Center Beta 32-bit or Microsoft Device Center Beta 64-bit, depending on which version of Windows 8 you've installed.
Microsoft Device Center lets you configure your mouse and keyboard for Windows 8, affording you the luxury of customizing the various taps, buttons and swipes according to your personal tastes. You can even customize settings for specific apps as well as system-wide.
Media Crazy
If you're looking for a quick-fire way to add photo and video editing, plus email to your Windows 8 installation, install Windows Live Essentials. Want a more fully functional photo-editing tool? Paint.NET and PixBuilder Studio come free.
Don't like Windows Media Player? iTunes is listed as compatible at the Compatibility Center for Windows 8, but if you want a simple media player, than VLC Media Player 2.0 will fit the bill.
Pick Your Apps
You'll find most apps should work with Windows 8, so long as they also work in Windows 7 or Vista. You'll be unsurprised to learn that Office 2010 is chief among these, as is Office 2007. If you have neither, you can download a trial of Microsoft Office 2010 Professional, then extend its trial period from 30 to 180 days with Office 2010 Trial Extender, which should see you through to the final release. If you want to go down the completely free route, LibreOffice 3.5.0 works in Windows 8, but only after you install the latest version of the Java Runtime.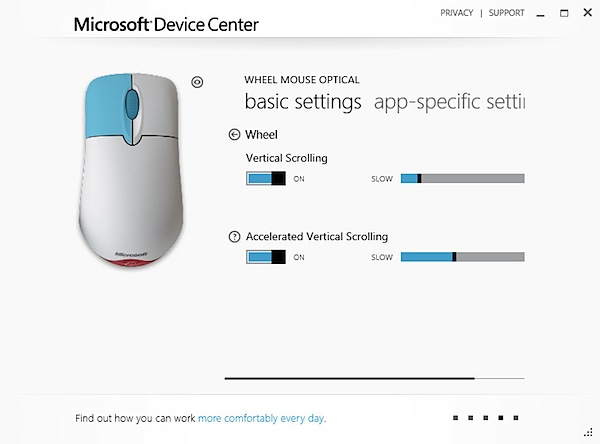 Fancy outputting high-quality PDFs from any application in Windows 8? Bullzip PDF Printer 8.2 will fit the bill, adding support for the Consumer Preview at the same time as dropping it for the previous Developer Preview build. Windows 8 ships with a built-in Reader app for viewing PDFs, or you can choose your own: both Adobe Reader and Nitro PDF Reader (which has its own built-in PDF creation tools, and is also available in 64-bit) are compatible with Windows 8.
Stay in Touch
You've installed Windows Live for email and instant messaging on the Windows Live network, and with Microsoft's recent acquisition of Skype, it's no surprise that the Skype client for Windows is also Windows 8 compatible.
You'll also find the major alternative browsers -- Firefox, Google Chrome, Safari and Opera -- will all work in this latest version, as will the associated plug-ins like Flash Player, Silverlight and Java.
Tweak Settings and Performance
If you're going to get down and dirty with Windows 8, you may want a collection of tweaking tools you can rely on to work with the Consumer Preview. Metro UI Tweaker is designed for those who want to customize the new Metro part of Windows 8, including disabling selected features. You'll need the .NET Framework 3.5 installed to use this -- don't worry, Windows 8 will offer to download it if it's not present.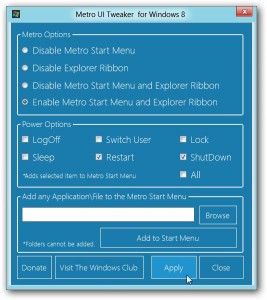 Anyone hoping that Windows 8 has updated Windows Explorer with a dual-paned view for easy navigation and file copying will be disappointed only for as long as it takes to install Q-Dir 5.0, which lets you navigate your system from a single four-paned window. A 64-bit version is also available.
TweakNow WinSecret 2012 has just been released, letting Windows 8 users tweak their systems to destruction (which is why you'll want to take a Restore point first).
If you're looking for a cleaning tool, then CCleaner is one of the best freebies out there, and version 3.16 promises improved Windows 8 compatibility.
And Finally…
Missing the Start button? Windows 8 does away with it altogether, but thankfully you can get it back again, complete with corresponding Start menu. You actually have two choices here: if you want the traditional-looking Windows 7 Start menu, try ViStart; if you're happy for the Start menu to resemble the new Metro interface, give Start8 a whirl instead.
So there you have it: 28 tools and apps that should enhance your Windows 8 Consumer Preview experience. But what do you think? Have we missed out any programs that should been included? Let us know in the comments.