Accellion takes a stab at 'Dropbox for Enterprise' with Kitedrive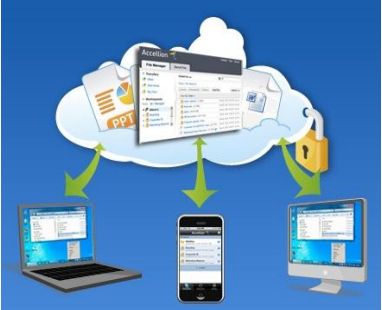 There are a ton of companies jockeying to become the "Dropbox of the enterprise world," with a managed solution for cloud file sharing, storage, collaboration, and backup with cross-platform mobile compatibility.
Monday, file sharing and collaboration solutions company Accellion Inc launched its own take on this popular niche with Kitedrive, which it bills, predictably, as "Dropbox for the Enterprise." The cloud file sync service first saw the light of day about four months ago, at the tail end of 2011, and it is now integrated with Accellion's mobile file sharing solutions.
Kitedrive lets Android, iOS (iPad and iPhone,) and BlackBerry devices sync and share files across platforms in a managed, secure environment. Administrators have access to activity logs, and Accellion supports authentication to the Kitedrive client through LDAP and SAML. Authorization is done through oAuth, and no passwords are stored or sent "in the clear." Kitedrive sync works in conjunction with data leak protection (DLP) solutions to monitor and filter shared documents based on the administration's intellectual property policies.
It comes in three tiers: Individual, a single user with 2GB of free storage, Business, which supports 5 to 500 users with 1,000 GB of cloud storage for $15 per user per month, and Enterprise which supports numbers greater than 500 users, unlimited cloud storage (public, private, hybrid cloud,) Archiving, DLP Integration, SFTP, and LDAP/AD integration.
"The influx of personal smartphones and tablets into enterprise organizations is threatening information security as IT and Security teams scramble to address BYOD (Bring your own Device) and Mobile Security," said Yorgen Edholm, CEO of Accellion in a statement on Monday. "Balancing employee demand for increased mobile access while ensuring enterprise-class security and control is now possible with Accellion Secure Mobile File Sharing Solutions."