iPad leaps ahead of iPhone browser usage, Opera Mini collapses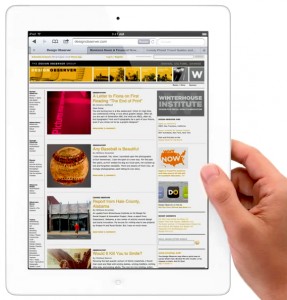 New iPad tipped the mobile web browsing balance, according to April data Net Applications released today. Apple's tablet now exceeds iPhone for browser usage share among mobile devices. That's 33.7 percent to 27.4 percent, after being neck and neck for the previous three months. iPad had nudged in front during February and March, but in April leapt ahead of iPhone.
Considering how much larger is iPhone's install base, or Android's for that matter, iPad's ascension is quite remarkable. Cumulative iOS device shipments reached 365 million during first calendar quarter -- nearly 67 million of them iPads. In all, iOS devices give mobile Safari tremendous usage share in the category: 63.84 percent, that's up from 52.36 percent in June 2011.
Mobile Safari gains have largely come at Opera Mini's expense. The browser's usage share fell from 15.39 percent to 12.05 percent between March and April. Android browser ranks higher, and second to Safari: 18.87 percent share. Android browser and Mobile Safari gained usage share for five consecutive months, while Opera declined during the same time period.
Chrome for Android is interesting, with just 0.3 percent usage share, which is far more significant than the number reveals. Google debuted a beta version in early February. Chrome for Android is only available for Ice Cream Sandwich. As of April 2nd, only 2.9 percent of Android devices ran the mobile operating system.
Google follows Microsoft's example on the desktop, where Internet Explorer 9 supports Windows 7, but not XP, which remains more widely used -- in April, 46.08 percent to 38.67 percent, according to NetApps.
Circling back to mobiles, and looking at operating systems, iOS and Android shares closely align with their browsers -- 63.19 percent and 19.27 percent, respectively. This says something about NetApp's methodology and its limitations, since the number of cumulative Android devices, the majority phones, exceeds 300 million (according to Google). The data doesn't reflect this, however. Assuming, for easy math's sake, total cumulative smartphone and tablet sales of 1 billion, combined share for the two operating systems should be just a little more than NetApps reports for iOS.
I make this distinction because of consistent misreporting (don't believe everything you read on the web) about how high iOS share is or references to usage share as market share, which it is not.
NetApps makes the latter more problematic by referring to "total market share" in its charts. There is no total market share in a category where people might use two things instead of just one. This is more likely on the desktop, but still in mobile users could install Opera Mini on their iPad or iPhone and use it in addition to Safari. Typically market share refers to the finite -- X widgets shipped over Y months. NetApps measures usage share.