Shut up and take my money: The first Windows RT device for consumers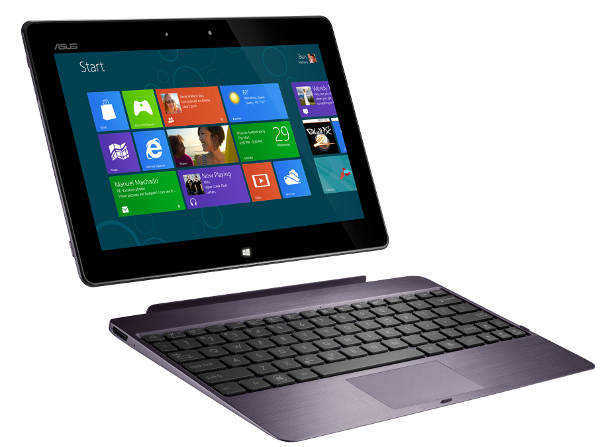 Late last year, I got pretty excited about the Asus Eee Pad Transformer Prime Android tablet. The tablet/notebook form factor spoke to me, the specs were impressive, and the overall package looked just right for an individual looking to do more working than playing.
Asus has revisited the appealling form factor of the Transformer Prime and applied it to Windows RT, the version of Windows 8 specifically for devices running on ARM-based processors.
The Asus Tablet 600 for the most part is the exact same device as the Transformer Prime with a couple of minor improvements. It has the same NVIDIA Tegra 3 quad-core processor with 2 GB of RAM instead of just one GB. It has the same 10.1 inch display, but the resolution of the Tablet 600 is a slightly higher 1366 x 768. It comes with a 32 GB SSD, a 2 megapixel forward-facing camera (the Transformer Prime's is 1.2MP), an 8 megapixel rear camera, 802.11 b/g/n, Bluetooth, GPS, and Near-field Communications chip.
Asus did not announce pricing or availability of the device on Monday.
The Tablet 600 is going to be an especially interesting device to watch in the pricing department, because it will reveal just how much of a difference in price the Windows RT license will cause. The Android version of the tablet cost $499 for the 32 GB model, plus $149 for the Eee Station Keyboard dock.
Here's a video walkthrough of the device from Nvidia: