Microsoft's Los Angeles Media event liveblog: Microsoft Surface Tablet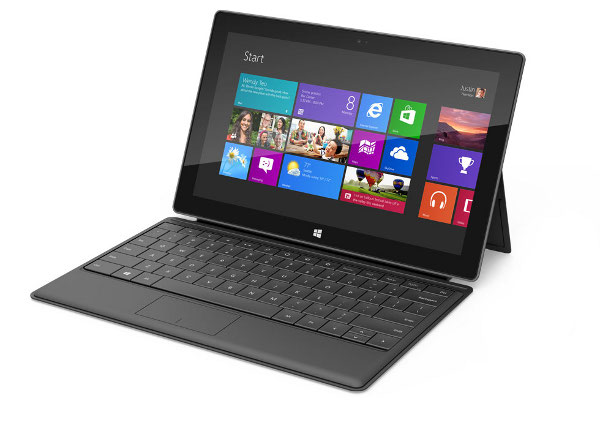 Well, all we can tell you at the moment for sure is that there's a Microsoft event in Los Angeles today at 6:30 pm Eastern Daylight Time. The invitations came in plain text, and it seems like nobody knows what's going on for sure.
We've heard a few guesses -- from a Microsoft branded tablet to a Xbox accessory. We've pinged our sources within Microsoft, and these normally reliable sources don't know what's going on themselves. What's this Steve Jobs-like secrecy? It's sure building a lot of buzz.
BetaNews will be live blogging the event as soon as it starts. Please join us here, but in the meantime while we wait, why don't you take a stab at what you think might be coming out of Microsoft? Post your guesses in the comments.
[Updates are in chronological order (in EDT), newest first]
8:00pm: And with that, it's over. BetaNews will have wall to wall coverage throughout the night.
7:59pm: "The Surface is a PC. The Surface is a tablet. And the Surface is something new which we think people will absolutely love." Microsoft translation to Apple? Welcome to the real post-PC era, Cupertino.
7:56pm: Sinfosky back on stage, confirms what I told you below, no date. No price. Ballmer back on stage to thank everybody to applause. There's been a lot of applause in the room, nobody knows from where though.
7:56pm: Touch cover demo right now. Those colors? Your metro UI changes color to match the case. When you fold back the cover, Surface knows and turns the keyboard off. This will be a battery saver.
7:53pm: "Surface for Windows RT will release with the general availability of Windows 8, and the Windows 8 Pro model will be available about 90 days later. Both will be sold in the Microsoft Store locations in the U.S. and available through select online Microsoft Stores."
7:50pm: "Suggested retail pricing will be announced closer to availability and is expected to be competitive with a comparable ARM tablet or Intel Ultrabook-class PC. OEMs will have cost and feature parity on Windows 8 and Windows RT." Bad move Microsoft. That's not acceptable to me, I don't know about anybody else.
7:49pm: No HDMI that I can see, to the person who asked.
7:47pm: Microsoft Surface team chief Panos Panay points out (in Apple style) 200+ custom parts make up this device.
7:44pm: Now a behind the scenes look at how the Surface was made.
7:42pm: Surface.com is live.
7:39pm: If you look here, you can see that there's gonna be different price points for the ARM and Intel Surfaces.
7:38pm: Those keyboard cases? They come in colors. :)
7:35pm: Right now we're getting a review of everything pretty much from Michael Anguilo, MS' version of Apple marketing guru Phil Schiller. He did add to the discussion here that it can work with a stylus. This looks like it's going to come in around $500, at least.
7:34pm: Ed Bott is suggesting via a tweet it appears that the Surface may have a Retina-like display.
7:33pm: Front and rear facing cameras. The way they're talking now it seems to be Windows RT, not Windows 8. But the press release indicates an ARM version on RT, and an Intel-based model on Windows 8 Pro.
7:29pm: Corning Gorilla Glass 2.0. Magnetic connector to snap a cover on. The cover they have actually has a keyboard. (He's been taking a shot or two at Apple). Full multitouch keyboard in it.
7:27pm: By the way Steven Sinofsky has been doing the actual product demo here, sorry about that. Dual 2x2 antennas for Wi-Fi. And it may have crashed, because Sinofsky had to swap it out for a new one (DOH). A stand is built into the device itself.
7:26pm: Case is scratch resistant. 1.5pounds. Access to Windows apps, including Xbox. 10.6 inch screen, and it's running Windows 8.
7:25pm: It looks like a 10 inch tablet. With a 16:9 screen resolution. 9.3mm thin. USB 2.0, beveled edges. Full magnesium case.
7:22pm: This is the new Microsoft Surface. IT'S A TABLET.
7:21pm: "With Windows 8 we didn't want to leave any seam uncovered." They wanted to give Windows 8 their own hardware companion
7:19pm: Ballmer brings up the Xbox as an example of Microsoft's own vertical approach to hardware and software.
7:17pm: Retrospective on Windows hardware is being shown.
7:16pm: "We want to add another piece to the story." Here it comes! It's something hardware from what he's saying here, folks.
7:15pm: Windows 8 is designed for modern computing, in which most computers are mobile. (Hmm.)
7:13pm: Talking about 1 billion PCs, including embedded systems.
7:12pm: Ballmer's on stage. Thanking everyone, etc.
7:12pm: In the animations on the screens, there's a lot of rectangles.
7:08pm: On the time question: we're thinking this is for close up demos, not sure.
7:05pm: 35 minutes late now. Looks like we'll be starting somewhat soon though.
6:57pm: Reporters have times on the back of their nametags. Earliest time appears to be 5:20pm (8:20pm EDT).
6:46pm: Long line outside yet. Figure another 15-20 minutes at least.
6:42pm: Mary Jo Foley on CNET's Streaming video coverage (not live event video!): "The fact that they've kept it a secret until now is unprecedented."
6:36pm: Is Microsoft about to rebrand itself? Slashgear analyzes the choice of Milk Studios here. Good read while you wait. Don't know if I agree, but it's possible Windows 8 and Metro was only the start of a bigger shift in Redmond.
6:33pm: People still trying to get in at this point.
6:25pm: You might be waiting a bit longer. Looks like the event may not start until 6:45pm. Tech press is in a tizzy a la Apple announcements. Microsoft has set the bar high here, which can sometimes be a really bad thing.
6:15pm: Interesting (and funny) guesses from BN readers so far. 15 minutes, give or take..
4:20pm: Our people inside Microsoft say that the marketing teams working for Redmond are strangely in the dark. Typically, these folks are given some material to work with in order to plan out advertising strategies ahead of time. This time? Nothing. The secrecy here is very un-Microsoft like.
4:18pm: Welcome to our liveblog. We're just getting situated here, full coverage begins at 6:30pm EDT!