Microsoft's Windows Phone Summit Liveblog: Introducing Windows Phone 8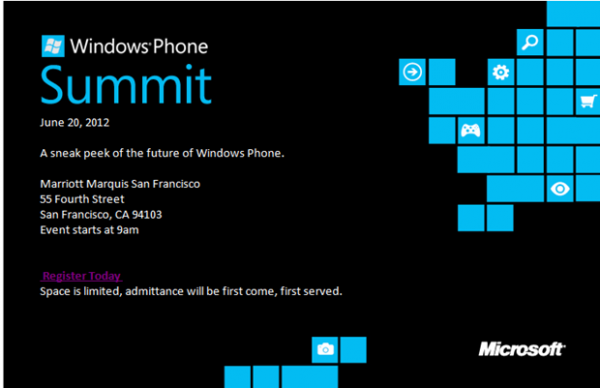 Microsoft sure is busy this week! Join BetaNews starting at 12 pm EDT for our liveblog of the Windows Phone Developer Summit in San Francisco. We're expecting the debut here of Windows Phone 8, the next version of Microsoft's mobile operating system.
Windows Phone 8 is expected to have a host of new features, including Near Field Communications, support for multicore processors, new screen resolution support, improved Skype application (although still seperate), and the replacement of the Zune PC client with something that's closer to ActiveSync, Mary Jo Foley reports.
Of course, Microsoft seems to have a penchant lately to surprise, so who knows -- we might see a few things we don't expect. What we're most interested in hearing here at BetaNews is whether or not the rumors that current Windows Phone devices are indeed not upgradable to WP8. May not be said here but we could get the first indications of Microsoft's plans.
So thanks for joining us again for another liveblog, and we'll see you soon. Until then, what's your hopes for Windows Phone 8? Better yet to those not on the platform, what would it take to make you switch? We want to hear your thoughts.
[Updates are in chronological order (in EDT), newest first]
1:20pm: The in-depth developer talk begins now, so we're going to stop the liveblog here. Thanks for joining us today. What do you think of what you've heard?
1:19pm: Video time showing Windows Phone 8 and Windows 8 shared core functionalities and how they'd work together. If your expecting huge news here, it's not going to happen. This is a developer-centric event, remember.
1:09pm: Wallet now being shown, with a early preview of a Chase app that is due later this year.
1:05pm: NFC being shown in game play to create a peer-to-peer network on the fly. Devices were tapped together to start the game.
12:59pm: Developer geekiness here. Marble Maze, a game that's been in the DirectX SDK for a long time, ported to WP8 with "incredibly small" code changes. Works with the phones accelerometer.
12:54pm: Demo of the anti-phishing technology from IE that is being brought into WP8.
12:52pm: He just pointed out a Windows Phone 7.5 app that is running in this new UI. There's your background compatibility.
12:51pm: Belfiore is demoing how easy it is to customize and move things around. As an iPhone guy, there is something that appeals to me about this. The UI just works for me. Now I'd argue that the tile idea doesn't transfer well to the desktop, but here on mobile, I'm a fan.
12:46pm: Full customization. Tiles are no longer one single size. It's up to the user which tiles are bigger and smaller. "Windows Phone is even more personal that it was in the past". You'd think this looks busy, but it is pretty nice looking.
12:44pm: Windows Phone 8 looks like changes the start screen. We're getting a demo.
12:43pm: WP8 includes device management and other features to ease deployment in enterprise. Secure boot, office app, encryption.
12:39pm: Nokia's mapping technology will be built in.
12:38pm: Every WP8 phone will ship with Wallet. Orange will be the first carrier to launch with Secure SIMs that work with the Wallet in Europe. In US, Microsoft is working with Isis, but it will not be available at launch.
12:39pm: WP8 will support NFC natively. This is also coming to laptops well that run with Windows 8. Microsoft is including a Wallet Hub within WP8. Belfiore makes mention to the wallet feature within iOS 6, calling WP8's implementation "similar".
12:32pm: Native Code developers, WP8 is for you. "We're expecting some fricking killer games". Hah.
12:29pm: IE10 included in WP8.
12:27pm: Multicore support is in. As is screen resolutions. 800x460, 1280x768, 1280x720 (720p). MicroSD support is a core part of the platform now.
12:24pm: 8 Platform Announcments today. "We're not disclosing today all the end user features".
12:24pm: For consumers, it means more hardware and new experiences. More apps due to the fact W8 apps will run easily on WP8. Hardware partners experience faster time to market because the drivers and core is similar to that of a PCs.
12:22pm: Yes, WP8 shares a core with Windows 8. "It changes what the platform is about".
12:20pm: Platform Preview today. Joe Belfiore on stage.
12:19pm: Seven of the top nine phones on Amazon by rating are Windows Phones.
12:17pm: Three principles guided WP development: Windows Phone needs to be a more personal experience, needs to be more relevant to the user, wanted to deliver the most connected experience.
12:16pm: Terry Myerson is on stage. Your typical welcome. "This year Microsoft has reimagined Windows." We're here to promote the next chapter .. Windows Phone 8.
12:11pm: Just a note Microsoft, your electronic music selections are seriously dated. Come on now.
12:07pm: Announcement that we're beginning in five minutes. Sit tight.
12:03pm: We're still waiting. Hopefully not as long as we waited for Surface!
10:30am: We'll start our coverage around 11:45am ET, with some early thoughts. See you then!