New Sony Google TV launches ... in the UK, oh goody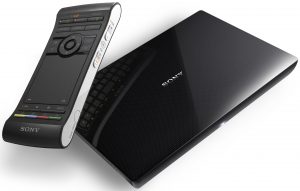 The Google TV platform kind of flopped when first launched in the United States two years ago. Anemic hardware and wonky UI made the experience a total cluster bomb of grief and end-user cursing for anyone that purchased it. Logitech took a $30 million write-off and ditched their failed Google TV product, Logitech Revue. 
The set-top box that "augmented" your television viewing experience also launched with the Sony NSZ-GT1 and Sony Internet TV with Google TV. The old consumer electronics behemoth that is no stranger to showing gumption for beating a dead horse will try again. Starting July 25, Sony will release the NSZ-GS7 set-top box in the UK for £200/$199. International launch will follow.
Google TV 2.0 released in December, adding desperately needed updates and refining the user interface. But still lacked polish, while some system performance issues remained, mostly due to underpowered hardware. A major update was integration with the Android mobile application platform. The Sony NSZ-GS7 not only takes advantage of these improvements but will use the new apps support to its advantage.
The NSZ-GS7 runs on a beefier 1.2 GHz dual-core Marvell processor, which should offer plenty of power compared to the older model. It comes with a new touchpad remote with 3-axis motion control, as well as finger gesture control and voice control. 
Following the UK release in July, Sony plans to launch in Australia, Brazil, Canada, France, Germany, Mexico and Netherlands later this year. The NSZ-GP9, a GS7 with an integrated Blu-ray player, will arrive in October for the UK priced at £280/€300/$299.
UK users of Google TV devices can look forward to localized content powered by UK newspaper The Guardian. But other info about localized apps and UK-specific services is still sketchy at the moment. Google's own Google TV blog states that UK users will find out more in the coming week at Google I/O.