IObit Advanced SystemCare with Antivirus 2013 mini-review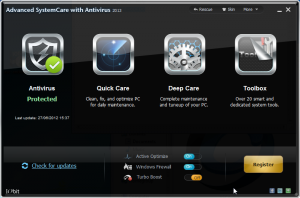 Security is a key concern for all users of Windows, but coming a close second is a desire to get the best possible performance. IObit Advanced SystemCare with Antivirus 2013 is an all-in-one suite that has both the security and performance bases covered along with a fair smattering of maintenance thrown in for good measure. The program is divided up into five main sections and in all there are dozens of tools on hand to help you to take care of your computer.
The antivirus component of the suite offers real-time protection against all manner of threats, but you also have the option of running manual scans, both quick and full, whenever you feel the need. Any files you receive via email are automatically scanned for signs of infection as are any files you download while browsing the Internet. Everything you would expect to find in an AV tool is available here -- scanning whenever you need it, quarantined of suspicious files, automatic updates and whitelisting of trusted files.
IObit has combined their existing Malware Fighter anti-malware engine with Bitdefender Antivirus to offer dual-protection against the latest threats. If you have an existing security suite, you can install Advanced SystemCare with Antivirus in "compatibility mode" and analysis your system on-the-fly, when you want a second choice security analysis of your PC.
The next component of the suite is Quick Care and here you will find a series of tools for fixing a range of problems with your system. These includes everything from fixing problems with the registry, checking for malware and fixing broken shortcuts. There are also options to remove your internet history and to free up disk space by removing unnecessary files. A nice touch is the ability to automatically shut down your computer once all of these tasks have been performed, meaning that it is an ideal thing to do at the end of the day.
More in-depth options are available in the Deep Care section that is essentially a more thorough version of the options found in the previous section and includes additional settings such as defragging of hard drives. The Tool Box section provides you with access to a massive selection of programs that give you full control over various aspects of your computer. Included here are a registry and disk cleaner as well as optimization tools to help speed up your network connection, boost startup times and recover deleted files.
If there is an accusation that could not be levelled at IObit Advanced SystemCare with Antivirus 2013 it is that it is short of tools. There is a good balance of tools that are automated compared to those that require you to manually configure settings. This means that whatever your level of computing expertize you can expect to gain something from this valuable suite.
If you'd like to try out the software for yourself before buying it, you can download a trial version from the Downloadcrew page.