Mozilla brings a knife to a gun fight, and Firefox OS can't win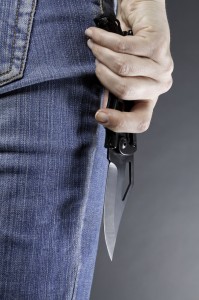 Mozilla is the nonprofit organization that gave the world the first true rival to Microsoft Internet Explorer. Firefox is the second-most used web browser in the world today and because of it the way we surf the Internet has changed dramatically.
Their success was in part based on the lack of competitors. Firefox started gaining share when there was no one else around. Opera didn't capitalize on this, but Firefox did. Their goal to penetrate the most difficult market has been achieved and it's their desire to enter the mobile operating system world as well. Is this going to be tougher than the browser market? Considering that they haven't yet released Firefox OS the answer is a very loud and clear: yes!
In Mobile, Competition is a Killer
Boot to Gecko (B2G) was the original name of the Firefox OS project. Their goal is to give the world the Mozilla Firefox of operating systems and they're relying on the Firefox brand to succeed. It's is very popular as a browser, so can the name make waves in the smartphone market as well?
Mozilla announced that they have partnered up with TCL Communication Technology (also known as Alcatel) and ZTE to manufacture their future smartphones. Carrier support is crucial to success and Mozilla is well aware of that, so they've managed to get support from Deutsche Telekom, Etisalat, Smart, Sprint, Telecom Italia, Telefónica and Telenor. It seems like they've covered their bases with carrier and manufacturer agreements. All is good then...
But really, have they? Mozilla faces the toughest competition, and I don't think they are prepared for it. The mobile operating system world has three big players: Android, iOS and Windows Phone. This isn't Microsoft with its dated Internet Explorer and no real competitor. Firefox steps into uncharted territory that's difficult to conquer from every end.
Android covers the smartphone market from low-end to high-end devices. Android smartphones start from $100 for low-end handsets and go up to $700 for the high-end ones. That's what Mozilla is up against. To make matters worse, a recent In-Stat study says that by 2015 Android will dominate 80 percent of the market for low-end devices in Africa, India and China.
What Firefox OS will be up against is most likely Android 2.3 Gingerbread, which even today is the most popular Android version. Most of the applications on Google Play are designed to work for it and this will be a major advantage for any device powered by it. Mozilla is starting with a bigger disadvantage than they can imagine.
The Chinese market already is saturated with low-end devices where local manufacturers like Huawei and ZTE are leading the market. Foreign manufacturers, like Samsung, Nokia, and LG are also going for the same market. There has never been this much competition for the smartphone market.
Microsoft is also interested in the lower-end of the market and through Nokia they are trying to get a piece of the pie there as well. Nokia's Lumia 610 is their cheapest Windows Phone smartphone and at less than $300 it's going to prove to be quite a challenge for similarly priced smartphones
Mozilla is a nonprofit organization, so they must rely on the manufacturer's margins to be able to pay everyone involved in the Firefox OS project. Here lies another problem. Mozilla is gunning down the low-end market where the margins are pretty thin even before they arrive in early 2013.
They face fierce competition that isn't willing to give up market share just because another competitor enters the market. Have they prepared for it?
Firefox OS is Already Doomed
Firefox OS is entering a market it can't conquer at any end. The low-end is well covered by Android, Windows Phone and the likes of Bada OS. From there upwards enters iOS as well. All the major players on the smartphone market cover every area that might interest Firefox OS. What are they thinking?
Mozilla is going after very popular ecosystems with Firefox OS and they're not prepared to lose. Google is paying them almost $300 million every year to keep them as the default Firefox search engine and so far search revenues act as their only revenue stream. A new project means more money and considering that they've barely renewed their contract, it adds even more uncertainty.
If Google decides today that they don't want to pay Mozilla anymore, the Firefox browser and the whole organization for that matter is at a great risk of becoming extinct. Mozilla is relying on search revenues to financially sustain every project. If those revenues will continue to come every year their operating system will at least have the possibility to be dismantled by the competition.
If the money stops, so does their project. Considering this risk and the incredibly thin margins for low-end smartphones and they've got themselves a recipe for disaster.
Firefox OS is entering the smartphone market too late. Android managed to seize the day back when only Apple delivered what people really wanted from a smartphone. Android succeeded by offering a better user experience and more competitively priced products at every price point. Android is Internet Explorer now and iOS is Mozilla Firefox. Things have changed and quite frankly, the true Mozilla Firefox has no place in this world.
It's too bad, because they're a few years too late and they can't compete with bigger corporations like Apple, Google and Microsoft which are better funded and can take bigger risks. Mozilla brings a knife to a gun fight. We all know a knife only works at close range, but when you're miles behind it's useless.
Mozilla should stick to where they're good at, which is the browser market. Their reputation goes a long way in that market, but is nowhere near as relevant in the smartphone world.
Photo Credit: Denis Mironov/Shutterstock