Microsoft keeps the old Surface alive with Perceptive Pixel buy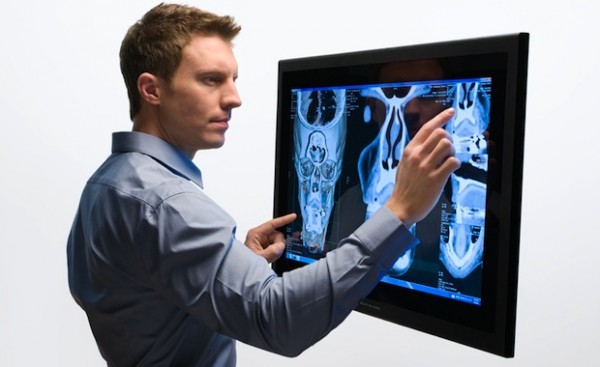 While Microsoft has turned to the smaller touchscreen with its Surface tablet, the company hasn't forgotten about its roots in large-format touch screens and the original Surface (now PixelSense). Microsoft announced the acquisition of Perceptive Pixel on Monday, one of the leading large-scale, multi-touch display solution providers.
You are probably already familiar with Perceptive Pixel's technologies, although you may not realize it. CNN began using the company's touch displays during the 2008 presidential election and has used them ever since. Perceptive Pixel also has customers across other sectors, including government, defense, energy exploration, engineering, and higher education.
While Microsoft already has a foothold in this market thanks to PixelSense, the purchase of Perceptive Pixel may have more to do with building market share quickly in large size touch screens. These technologies will be built on top of Windows 8, so obviously Microsoft is hoping to increase the ground its newest operating system can cover.
There's also the fact that Microsoft is all but an industry standard when it comes to office productivity applications, so the Perceptive Pixel team has a direct line to apps that its customers will obviously want to be touch-enabled.
"By joining Microsoft, we will be able to take advantage of the tremendous momentum of the Microsoft Office Division, tightly interoperate with its products, and deliver this technology to a very broad set of customers," Perceptive Pixel Founder Jeff Han says of the acquisition.
Though the acquisition was announced by Microsoft's Office division, the specific team Han will join at Microsoft was not disclosed.
The terms of the deal were not disclosed either. Microsoft appears set to integrate Perceptive Pixel's technologies into its portfolio of preexisting touch technologies.
"PPI's large touch displays, when combined with hardware from our OEMs, will become powerful Windows 8-based PCs and open new possibilities for productivity and collaboration," Office division chief Kurt DelBene says.
Don't expect these technologies to make it into the consumer realm, at least initially. Perceptive Pixel's partners have paid a high price to incorporate the technologies into their workflow. A display with the company's technologies will set you back about $80,000, although Microsoft says it plans to make the technology more affordable.
How much more affordable is yet unknown, but at least for the time being it appears Microsoft's new big-screen touch displays will end up in the hands of its enterprise customers.