Microsoft moves your Office to the cloud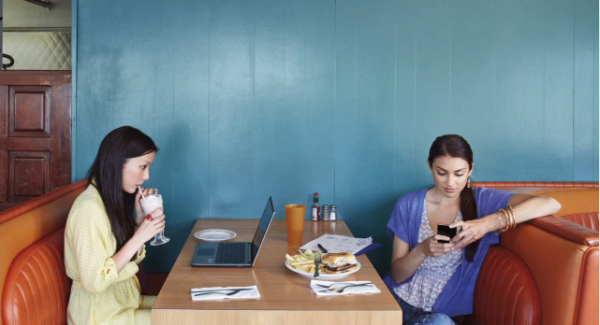 There's a reason CEO Steve Ballmer unveiled Office 2013 early this afternoon. Microsoft's productivity suite has a new face, so to speak. His presence communicates the company's commitment, particularly to businesses -- many of which are gun shy to big changes. The new version really isn't about applications after all but the cloud. Sure, the new suite is finger-licking good, however, it's what Microsoft offers beyond the device that matters more. The software giant is in process of completely reinventing Office for the cloud-connected device era.
The new Office is just that -- a new office for you to do you work. Your new cubicle is outdoors, or anywhere you want to be. In this new workplace Microsoft wants you to pay differently, too, by pushing subscriptions instead of your paying once for perpetual licenses. Ballmer and Co. prefers to collect monthly fees, just like your cable provider. Subscription computing is the Holy Grail sought by Microsoft since the 1990s and something of a pseudo-achievement a decade ago with business annuity license contracts.
Along with today's Office 2013 preview, Microsoft also announced four new cloud subscription plans. Office 365 will expand to "Premium" offerings Home, Small Business, ProPlus and Enterprise. The subscriptions will include access to Office 2013 apps on up to five PCs (Windows or OS X) or mobile devices.
The forthcoming plans point to a simpler, more straightforward approach to Office 365, which current subscriptions are more complicated -- for example, using designations like P1 and E3 to describe them.
Pricing and fuller plan details are expected in autumn, which tips off availability. According to Microsoft, the four new editions will be the following, available first as previews:
Office 365 Home Premium Preview: Install Office on up to five PCs and get an additional 20 GB of online storage on SkyDrive so that you can save and share your documents online. Home Premium includes Word, PowerPoint, Excel, Outlook, OneNote, Access and Publisher.

Office 365 Small Business Premium Preview: Ideal for businesses with up to 10 employees, each user can install Office, getting the same applications that are included in Office 365 ProPlus on up to five PCs per user, and enjoy professional email, shared documents and HD videoconferencing in an easy-to-manage solution that is hosted by Microsoft.

Office 365 ProPlus Preview: Create up to 25 user accounts, with five installations of Office 365 ProPlus per user. It includes Word, PowerPoint, Excel, Outlook, OneNote, Access, Publisher, InfoPath and Lync.

Office 365 Enterprise Preview: Get the benefits of Office 365 ProPlus combined with Exchange Online, including archiving and legal hold to fully manage your company's email in the cloud. It also includes SharePoint Online to manage and share documents and Lync Online to allow you to conduct meetings and collaborate across remote teams and team members.

The final version of Office 365, when available, will include Office for Mac.
Game Plan
Microsoft has five major objectives behind its new Office platform strategy:
1. Maintain the relevance of PC software. The transition from the personal computing to cloud-connected device eras is unmistakable. Cloud companies like Google shift computing and informational relevance to the cloud and drive it back to the device. Microsoft drives it the other way, leveraging off the huge Office System customer base. The strategy is sensible, but execution complicated and a process started years ago. This release cycle promises to be the one where there's seamless experience whether using software on a PC or over the Internet.
2. Extend the Office-Windows-Windows Server apps stack to the datacenter. Microsoft dominates the most successful applications stack on the planet. But in the cloud-connected era, it's not enough, which relates to #1 and #4. Incumbency is a huge advantage, but not if BYOD (bring your own device) to work supplants you (There's no Office for Android or iOS). Microsoft bets that Surface, other Windows RT tablets, Windows 8 devices and the cloud will, along with Office System apps and servers, be the winning combination that keeps its apps stack the preferred choice, particularly among businesses.
3. Take out Google Apps. Ballmer once treated the hosted suite as little more than an annoying gnat and later a yappy mutt. But Google racks up customers, by turning Apps, Gmail, Google Talk and other services into a suite that's "good enough" for much lower cost (typically ranges free to $50 per user/year); businesses are adopting Apps. Microsoft believes that Office desktop and cloud, particularly with revised subscription pricing and seamless sync, offer so much more. Again, turning incumbency back into a major asset is key.
4. Provide customers what they want most. The PC is no longer the only device most people use, and Gartner claims that within two years the cloud will replace the personal computer as primary digital content hub. Stated differently: People want access to their stuff anytime, anywhere and on anything. Microsoft seeks to do just that without disrupting its major Office system revenue stream. The hybrid apps/cloud strategy seeks to have Microsoft's cake and let customers eat it, too.
5. Make money. That seems obvious, but it's not. The Office division now generates more revenue and profit than Windows. Microsoft's challenge is how to rock the cart without spilling it over. That's why the cloud strategy is so important -- where for many customers Office 365 is primary product; they get productivity apps as part of the service, while paying ongoing subscription fees. If successful, Microsoft will further smooth revenue highs and lows. Meanwhile Microsoft ensures customers' software is up to date, which lets it deliver more benefits faster, removes IT management burdens and makes happy subscribers willing to keep paying. By comparison, out-of-date software that IT must qualify and test leads to dissatisfaction and defection (to services like Google Apps).