Samsung Galaxy Note comes to T-Mobile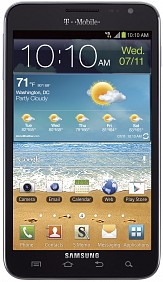 Let's assume you're a big fan of the Samsung Galaxy Note and you want one, but you reside in the United States and your carrier happens to be T-Mobile. Well, take Note! T-Mobile has officially confirmed that it is coming online and to select stores. Phablet fans, rejoice.
There are no details on pricing or when it's going to be officially available at the US carrier, but what we do know are the juicy details on specifications. You're still getting that huge 5.3 inch AMOLED display, 8-megapixel back-facing camera with 1080p video recording; 2MP front-facing camera with video recording; 1GB of RAM; and HSPA+ connectivity (42Mbps download is a nice selling point, even better than the international version), among other things. And the biggest news is that it will actually come with Android 4.0 Ice Cream Sandwich out of the box and Samsung Premium Suite preinstalled as well.
So let's say you're interested in getting the new Note and you may wonder what's powering the big fella. The International Galaxy Note makes due with a very fast Exynos 1.4Ghz CPU paired with a Mali-400MP GPU, while the T-Mobile version will have to work with an older Qualcomm Snapdragon S3 1.5Ghz CPU paired with an Adreno 220 GPU. Performance will be similar to the AT&T Galaxy Note, considering near identical specs, but it's a bit down on power compared to its international sibling.
Since T-Mobile has announced that it will come with HSPA+ (dubbed 4G by the US carrier) connectivity, with 42Mbps download, LTE is now out of the question. If LTE is a selling point for you then you might want to look elsewhere. AT&T offers the Galaxy Note as well, but unlike T-Mobile they offer LTE connectivity out of the box. AT&T prices the big fella at $249.99 on a two-year contract, so it's my guess that T-Mobile will offer a similar pricing on the 5.3-inch smartphone.
Now that you've got the bigger picture on the Note, the in-your-face Android smartphone, there are a few other things that you need to know as well. Samsung gives it the SAFE designation, meaning Samsung Approved for Enterprise, in a move to help boost enterprise awareness. You can expect AES 256-bit encryption, Microsoft Exchange and VPN support as the main features. WiFi calling capabilities are also included, as well as hot-spot functionality for up to five devices if you chose the qualifying rate plan. Don't think T-Mobile has forgotten to put their fingerprint on the software as well, with the carrier preinstalling a bunch of apps.
So there you have it, in its full glory, the Samsung Galaxy Note on T-Mobile. One of the most controversial and interesting Android smartphones is available at the US carrier soon. T-Mobile claims that 77 percent of consumers want a smartphone with a display at least 4.5 inches big -- Galaxy Note should fit right in. The biggest Android smartphone on the planet Earth is here for you to buy.