DirecTV the apparent winner in new deal with Viacom, 10-day blackout ends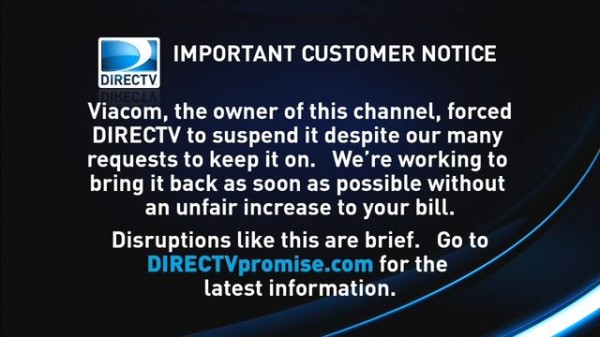 A 10-day dispute between Viacom and satellite provider DirecTV ended Friday as the two sides consented to a new long-term agreement that put Viacom channels back on the air.
DirecTV customers lost access to 26 channels on July 10 after the company walked away from negotiations, claiming Viacom wanted a 30-percent increase in carriage rates. While the two sides did not disclose the financial terms of the deal, both Bloomberg and Reuters report that it is worth about $600 million, or a 20 percent increase over current rates.
The satellite provider won some important concessions from Viacom. First, it will have the option to carry movie channel Epix, which Viacom had attempted to force DirecTV to pick up. Viacom also will allow DirecTV to stream all channels live through its mobile DirecTV application. That said, no timeline was given for the availability of those channels.
Even in apparent victory, DirecTV officials still took a defiant stance.
"The attention surrounding this unnecessary and ill-advised blackout by Viacom has accomplished one key thing: it serves notice to all media companies that bullying TV providers and their customers with blackouts won't get them a better deal", DirecTV's content strategy chief Derek Chang says. "It's high time programmers ended these anti-consumer blackouts once and for all and prove our industry is about enabling people to connect to their favorite programs rather than denying them access".
Viacom's response is muted. "Viacom is extremely pleased to bring its programming back to DIRECTV subscribers, and thanks everyone affected by the disruption for their patience and understanding during this challenging period", the company says in a brief statement.
At 10 days and 26 channels, the blackout is unprecedented in both size and scope. However, the tactic of yanking access to channels is becoming more common as of late as entertainment providers look for more leverage in a market that grows at a far slower pace than in the past.
Regardless, both sides did not walk away unscathed. DirecTV is said to have lost some customers during the period, and Viacom channels like Nickelodeon saw an appreciable drop in their ratings, losing ground to competitors like The Disney Channel.