Good news for RIM fans: RIM unveils the 4G LTE BlackBerry Playbook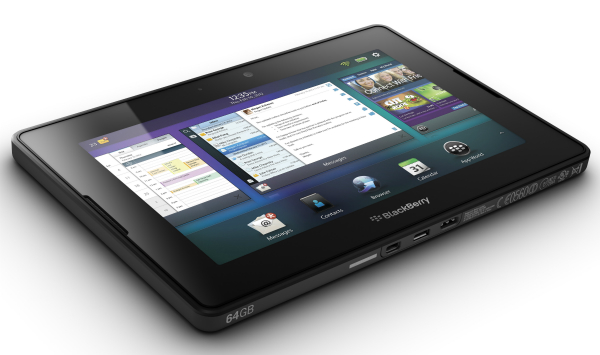 Suddenly RIM is in the news again, and this time it's not about financial troubles or product delays to 2013.
Instead, the Canadian manufacturer announced the introduction of its new 4G LTE BlackBerry Playbook, along with the specifications of the 4G LTE 7-inch tablet aimed to bring stability to a company that's facing difficult financial problems. When's it coming and where?
The RIM 4G LTE BlackBerry Playbook has a 7-inch display with a 1024x600 resolution, packing a 1.5GHz dual-core processor, 1GB of RAM, 4G LTE connectivity as well as HSPA+ support, 32GB of built-in memory, a 5MP rear facing camera with 1080p video recording, a 3MP front facing camera, GPS navigation, Wi-Fi 802.11 a/b/g/n, micro USB port, micro HDMI port, Bluetooth 2.1 + EDR, HTML5 browser support with Adobe Flash 11.2 support, H.264, MPEG-2, MPEG-4, VP, WMV 9 video playback as well as stereo speakers and microphones. BlackBerry PlayBook OS is running as the operating system of choice. At the moment, RIM's website lists it only for Canada's Rogers Wireless, but there is the possibility of other carriers to offer it, or for RIM to offer it directly through their online shop. Pricing is unknown at the moment, but it should be higher than the Wi-Fi only, 32GB BlackBerry Playbook.
The 4G LTE BlackBerry Playbook will debut in Canada on select carriers starting August 9, but additional models with cellular connectivity adapted to the carrier demands will arrive in the United States as well as Europe, South Africa, Latin America and the Caribbean, according to RIM's BlackBerry Blog.
Where the Wi-Fi-only BlackBerry Playbook differs is in processing power, with a 1GHz dual-core processor, the lack of LTE and HSPA+ connectivity and different built-in memory size. The Wi-Fi version comes in 16GB, 32GB and 64GB of internal storage, unlike the Cellular+Wi-Fi BlackBerry Playbook which only comes with 32GB of built-in memory. The listed weight for the Wi-Fi BlackBerry Playbook is 425 grams. RIM's online shop lists the BlackBerry Playbook 16GB version at $199.99, the 32GB for $249.99 and the 64GB variant for $299.99.
The most obvious opponent to the RIM 4G LTE BlackBerry Playbook is the Google Nexus 7, which like the BlackBerry Playbook has a 7" display, but it differs in resolution, with a higher one at 1280x800, has a quad-core nVidia Tegra 3 processor, internal storage is limited to 8 or 16GB, doesn't come with cellular connectivity, be it 4G LTE or HSPA+ and is lighter at 340 grams. The Google Nexus 7 is listed at $199 for the 8GB version and $249 for the 16GB variant, which is more expensive than the Wi-Fi only BlackBerry Playbook, but comes with better specifications than it.
RIM stock prices haven't changed significantly after the announcement, despite the 4G LTE model being the first new model announced after CEO Thorsten Heins stated that BlackBerry OS 10 will be released along with new products in 2013. RIM's stock price at the time of writing this article is $7.17 per share, marginally better than yesterday's price of $7.12 at stock market closing time.
The question after RIM's announcement is this: will it help the company recover after the falling stock prices? RIM launched a new tablet today, specification-wise, by adding a different CPU and LTE connectivity and by the looks of it seems to have the Google Nexus 7 beat just because it has LTE and HSPA+ support, but will it beat it on popularity?