How much would you pay for Microsoft Surface?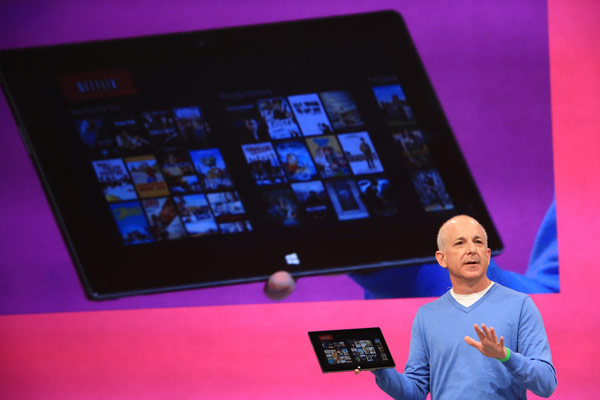 End of summer typically means slower news cycle and with it more ridiculous rumors and positively pathetic punditry than ever. For example, the Apple Fanclub of bloggers and journalists squirms and squeals like a pack of hogs rolling in fresh mud -- they can't get enough of the Samsung trial under way in Northern California. Then there is Microsoft and the mini-revolt over the Surface tablet. Acer whines, Toshiba gives up Windows RT plans and everybody who is no one guesses just how low Microsoft will sell its tablet.
The problem is one of conflicting objectives. Apple's iPad sells faster than bacon cheeseburgers (let's keep to the pig metaphor shall we) during the County Fair. Total shipments topped 85 million in July -- in about 27 months. Today, IHS iSuppli put Apple's second quarter tablet market share at 69.6 percent globally -- that's up 44.1 percent, or 11.5 points, sequentially. Yeah, from 58.1 percent in Q1. (Pop those eyes back your head now.) Meanwhile, Windows starts essentially from zero. Microsoft can't close distance on iPad fast enough, and sure-fire, proven way is offering a compelling alternative for much less.
So Microsoft will make its own tablet, competing with OEM partners. Hence, the conflicting objectives, since the Redmond, Wash.-based company so depends on hardware manufacturers to sell its software. Surface will come in Windows 8 and RT versions, but it's the latter that has some OEMs squealing like pigs in the slaughterhouse. Microsoft is supposed to bring home the bacon not cut up partners for dinner. Pork chops anyone? Microsoft rarely sells any computing device that takes money from OEMs, but Surface RT is sure to do this. By how much is the question.
Google chose a smaller (7-inch display), cheaper strategy ($199), with Nexus 7. Surface RT will be larger, 10.1 inches, and like other media tablets run on ARM-architecture. Pricing is anyone's guest, with $199 among the newer rumors circulating the InterWebs. No wonder Acer pleads for a more reasonable 500 bucks. Trust me, there's no margin for Acer or any other OEM at $199.
Last week, Acer CEO J.T. Wang gave Microsoft a plaintive ultimatum regarding Surface, according to the Financial Times: "We have said think it over. Think twice. It will create a huge negative impact for the ecosystem and other brands may take a negative reaction. It is not something you are good at so please think twice".
But $199 makes loads of sense to me. Microsoft needs to practically give away Surface RT to gain market share fast. iSuppli analyst Rhoda Alexander warns:
With the expected entrance of the 7-inch version of the iPad in September, Apple is sending a clear message that it plans to dominate this market over the long term. Apple's major media tablet rivals, Google and Microsoft, hope to challenge Apple in the second half of the year, but will be facing formidable headwinds with no sign that the market leader is backing off of its aggressive strategy in the market.
Forgive my skepticism about the oft-rumored 7-inch iPad, but let's hypothetically assume Apple would release such a beast at $199 or $299. Surface will need to offer much more for much less to compete. Apple has got Microsoft's secret weapon to bear on the tablet market, too. Applications, and broad developer support, is foundation for Windows success. iPad, too.
"A major component of Apple's success to date is the company's well-developed ecosystem of content and applications it had in place before entering the tablet market, and its absolute control of the hardware, software and operating system," Alexander says. "When a customer buys a media tablet, what he or she is really doing is purchasing a key to that ecosystem, not just a piece of hardware". She's absolutely right.
Hence, Microsoft plows into the tablet market with its own end-to-end product, leveraging the existing Windows ecosystem, which actually is weak on tablets and will be until there are more native apps.
So Microsoft needs to give buyers a better reason to buy Surface RT. Lower price is it, baby, even if major OEM chief executes call paramedics after clutching their chests.
I bring the price question to you. What would you pay for Surface RT? Quick specs: 10.6-inch ClearType HD display; 32GB or 64GB storage; microSD, USB 2.0 and Micro HD Video ports; 2x2 MIMO antennae; and Office 2013. Weighs 676 grams and is 9.3 mm thick. How much would such a tablet running Windows be worth to you?
Well, $199 is a no-brainer for me, and I wouldn't think twice about $299 -- that's for the 32GB model. And you? Please respond in comments below and take our poll above.