Microsoft Surface is all about Apple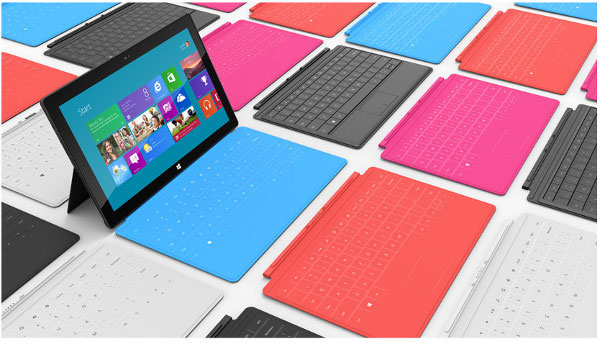 I dunno if it's branding or magic, but Microsoft's "big-ass" Surface table suddenly is smaller. In a jam-packed media event this evening, the software giant unveiled a 10.6-inch display tablet. Case is magnesium with beveled edges that give a sleek appearance. The tablet weighs as little as 676 grams. That's a helluva lot lighter than the Surface table introduced 5 years ago. That baby measured 30 inches and newer Samsung model is 40 inches. The tablet is pretty compact compared to the table.
So the rumors were true about a Microsoft tablet. But Surface? Not Xbox? It's smart branding that pits Microsoft's tablet against Apple's -- industrial design, announcement timing, Surface branding and more.
The Hardware
Quick specs for two models, running either Windows 8 or Windows RT:
Windows RT model: 10.6-inch ClearType HD display; 32GB or 64GB storage; microSD, USB 2.0 and Micro HD Video ports; 2x2 MIMO antennae; and Office 15. Weighs 676 grams and is 9.3 mm thick.
Windows 8 Professional model: 10.6-inch ClearType HD display; 64GB or 128GB storage; microSDXC, USB 3.0, Mini DisplayPort Video ports; and 2x2 MIMO antennae. Weighs 903 grams and is 13.5 mm thick.
The Windows 8 model isn't just bulkier, it requires a heftier battery. Welcome to the differences between Intel and ARM processors. As I've expressed before Windows RT is the future.
Scratching the Surface
Observing these tablets, I struggle to see exactly what really makes them different from others, except industrial design and Surface branding. Let's be clear, unless there's some real software magic Microsoft will disclose later, Surface really is more about branding than anything. It's a cunning move.
But there is something else: Microsoft finally gets to design things the way it wants. Too many OEMs make choices that favor their margins rather than the user experience. Microsoft can't compete with Apple on those terms, and there is need as the fruit-logo company makes early mind share and market share gains in the cloud-connected device era.
Finally Microsoft seizes control of the Windows user experience in ways it should have long ago. "What about channel competition?" you ask. Where will partners go? They can't license iOS, and Android doesn't have the enterprise chops -- or at least it's not what big businesses are accustomed to. Microsoft will compete with its OEMs, but they don't have a lot of options.
Channel Competition
Besides, Surface branding is a differentiator that softens channel competition. These aren't Windows 8- or Windows RT-branded tablets. Hell, Microsoft really isn't calling them tablets at all. They're Surface!
More significantly, Microsoft has released the de facto reference design -- the baseline for Windows 8/RT tablets. What I want to know, and surely you also, is pricing. But Microsoft isn't saying: "Suggested retail pricing will be announced closer to availability and is expected to be competitive with a comparable ARM tablet or Intel Ultrabook-class PC. OEMs will have cost and feature parity on Windows 8 and Windows RT".
Yeah, right. Pricing is where channel conflict is most likely. Microsoft has built-in cost advantage because of Windows licensing fees. Something else: Microsoft doesn't have to make a penny on any Surface tablet; selling at a loss is viable option. The company is building out the Windows ecosystem anew -- with Metro UI and energized focus on cloud-connected devices. Gaining market share, particularly against iPad, is more important now than making money selling hardware.
Target: Apple
The question I've been asking for days, why June 18? Why announce now something that won't ship until autumn? The answer: iPad. Back-to-school promises to be big for new iPad and, with OS X Mountain Lion coming next month, MacBook Air. But Microsoft just gave anyone considering Apple reason to wait. The old adage remains true: No one gets fired for buying Microsoft, and Surface is good reason to budget for just that. Frak iPad.
Make no mistake, Surface is all about putting Apple in its place. Microsoft announced today's event short notice; rumors buzzed for days; media turn-out was huge; and the presentation, which emphasized design and manufacturing, and the marketing are very Apple-like. Just look at the Surface product page. The aspirational presentation is oh-so Apple-like. Then there's the industrial design stuff. The molded VaporMg enclosure, built-in kickstand and 3 mm Touch Cover.
Hell, Yeah
Earlier today, I asked: "Should Microsoft release a branded tablet?" Many of you responded affirmatively.
Reader chinch987 smartly answers:
Yes for these reasons:

1. Microsoft Retail Stores coming all over USA.
2. Set reference design with standardized 'options' and 'accessories' which was a huge strength from the original iPod never matched.
3. Set price point and quality baseline vs Fire tablet and/or iPad
4. Wireless carriers shift to shared data plans (see Verizon with $10/mo tablet addon)
5. B&N deal
6. Bolster new media deals (zune replacement and subsequent new subscription plans not yet announced)
7. MS Bundles for holidays with Xbox/Phone
Robert Schiele: "They'd better, and they'd better sacrifice a virgin or whatever it takes to make that branded tablet compete successfully with the iPad and Android tablets. If they can't or don't, the Windows 8 release is likely to be the most epic failure in Microsoft's history".
1DaveN shares my sentiments about the channel: "To gain traction in the established tablet market, Microsoft might have to price an entry lower than an OEM would or could. Think of the XBox, which they subsidized for a long time to gain market share. OEMs will not, and should not, lose money on hardware to gain market share, but that might be appropriate and necessary for Microsoft".
Indeed, yes. Now these readers expressed their opinions before Microsoft announced anything, when there were rumors of a Barnes & Noble-manufactured tablet or Xbox branding. So...what do you think of Surface?