Big Fish Games brings real-money gaming to Apple's App Store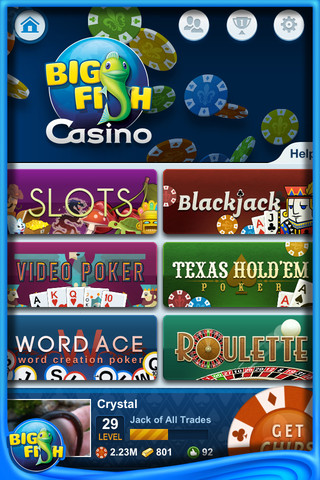 Social gaming just used to be about having fun, but now there's a real-money element creeping in. First Gamesys launched a Facebook app that allowed UK residents aged 18 and over to play for real cash prizes while interacting with friends, and now Big Fish Games is getting in on the act with Big Fish Casino for iOS devices. The game is a relaunched and rebranded version of Card Ace: Casino, from recently acquired Self Aware Studios, that offers new games and additional social features, and will soon also allow UK users to play slots for real money.
If the thought of wagering your earnings on spinning reels doesn't do it for you, you might be more interested to hear that the real-money feature, powered by UK-licensed online gaming company Betable, will also be available in blackjack, roulette and video poker in the coming months.
Paul Thelen, Founder and CEO of Big Fish, says of the new game, "We have a strong conviction that mobile apps that combine social and real-money gambling are a powerful way to engage more users and increase overall monetization. With its real-time social interaction features and the thrill of real-money gambling, Big Fish Casino is the closest mobile users can get to the buzz and excitement of playing these games in a real-world casino".
More and more real-money apps are set to arrive on Facebook and in the Apple App Store in the next few months. Although they'll only be available in the UK to begin with, due to the country's well regulated gambling controls, it's possible they may spread to other English speaking countries in due course and possibly even to the US, if lobbying efforts by the likes of Zynga succeed in getting the Internet Gambling Consumer Protection and Public-Private Partnership Act of 2012 through the House and Senate.